OVERVIEW
GebraBit SHT35 is a digital humidity and temperature measurement module.
GebraBit SHT35 operates with 3V3 and 5V Supply Voltages that users can easily select with jumper selector of the module.
User can interface with GebraBit SHT35 by I2C protocol and capable of setting I2C address with jumper selector of the module.
Also, Users can access to the most important pins of the SHT35 through the GebraBit SHT35 module. Reset (RST) and interrupt (int) Pins that can user use them as reset the module and interrupt to indicates programmable alarm condition of sensor.
GebraBit SHT35 has the next generation of Sensirion's temperature and humidity sensors named SHT35. It builds on a new CMOSens® sensor chip at the heart of Sensirion's new humidity and temperature platform. The SHT35has increased intelligence, reliability, and improved accuracy specifications compared to its predecessor. Its functionality includes enhanced signal processing, two distinctive and user-selectable I2C addresses, and up to 1 MHz communication speeds.
WARNING: FOR ACCURATE INFORMATION ABOUT ICs ABSOLUTE MAXIMUM RATINGS AND ITS PRECIOUS  CHARACTERISTICS RANGES, USERS MUST CERTAINLY REFER TO ICs MANUFACTURE DATASHEET.
Key Features
User selectable module power supply voltage between 3V3 and 5V

selectable I2C address

up to 1 MHz communication speeds

Access to important pins of SHT35

ON/OFF LED indicator

Pin Compatible with GEBRABUS

GebraBit small package

It can be used as a daughter board of GebraBit MCU Modules

Featuring Castellated pad (Assembled as SMD Part)

Separatable screw parts to reduce the size of the board
Pinout Diagram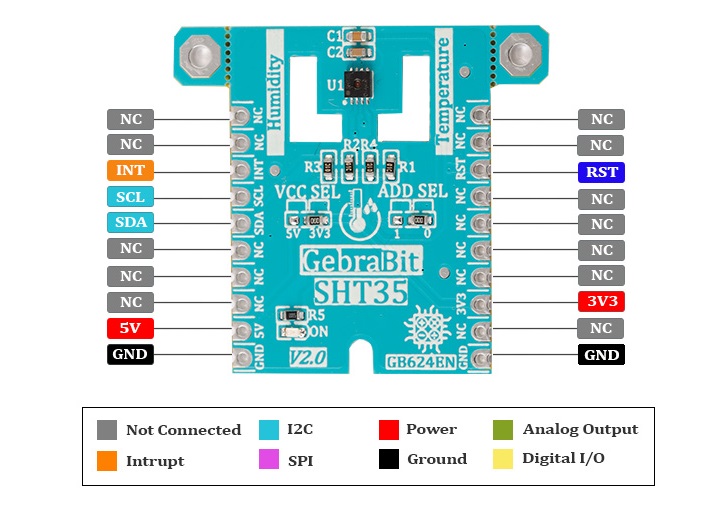 Module Overview

Documents Link