OVERVIEW
GebraBit MAX31865 is a sophisticated RTD to digital converter with a built in 15 bit analog to digital converter (ADC) and SPI communication interface.
GebraBit MAX31865 module operate with "3V3" supply Voltage.
GebraBit MAX31865 is optimized to work with PT100 through PT1000 platinum resistance temperatures (RTDs) or thermistors with 2, 3 or 4 wire topology. users can easily select the RTDs wire topology with on board jumper selector and connections of RTD wires through screw terminal block. Refer to bottom image and table for better understanding of connection methods.
Users can connect the PT100 through PT1000 over Screw Terminal Block.
Fault detections Such as Open RTD Element, RTD Shorted to Out of Range Voltage, or Short Across RTD Element is the other features of this module.
GebraBit MAX31865 has an easy-to-use resistance-to-digital converter optimized for platinum resistance temperature detectors (RTDs). An external resistor sets the sensitivity for the RTD being used, and a precision delta-sigma ADC converts the ratio of the RTD resistance to the reference resistance into digital form. The MAX31865's inputs are protected against overvoltage faults as large as ±45V.
Programmable detection of RTD and cable open and short conditions is included.
WARNING: FOR ACCURATE INFORMATION ABOUT ICs ABSOLUTE MAXIMUM RATINGS AND ITS PRECIOUS  CHARACTERISTICS RANGES, USERS MUST CERTAINLY REFER TO ICs MANUFACTURE DATASHEET.
Key Features
User selectable RTDs 2, 3 or 4 wire topology via input connector and on board jumper select

On Board, ON/OFF LED indicator

On Board, DRDY LED indicator

Pin Compatible with GebraBus

GebraBit small package

It can be used as a daughter board of GebraBit MCU Modules

Featuring Castellated pad (Assembled as SMD Part)

Separatable screw parts to reduce the size of the board
Pinout Diagram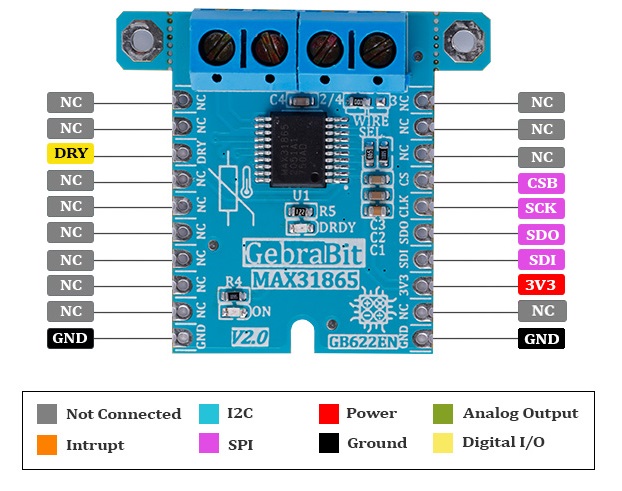 Module Overview

Documents Link