OVERVIEW
GebraBit SGP41-D-R4 Air Quality module for VOC and NOx Measurements
GebraBit SGP41-D-R4 operates with 1V8 and 3V3 Supply Voltages that users can easily select with jumper selector of the module.
User can interface with GebraBit SGP41-D-R4 by I2C protocol with the module.
The SGP41-D-R4 is a digital gas sensor designed for easy integration into air purifiers or demand controlled ventilation systems. Sensirion's CMOSens® technology offers a complete, easy-to-use sensor system on a single chip featuring a digital I2C interface and temperature controlled micro hotplates, providing one VOC and one NOx based indoor air quality signal. Both sensing element and Gas Index Algorithm feature an unmatched robustness against contaminating gases present in realworld applications enabling a unique long-term stability as well as low drift. Sensirion's state-of-the-art production process guarantees high reproducibility and reliability.
WARNING: FOR ACCURATE INFORMATION ABOUT ICs ABSOLUTE MAXIMUM RATINGS AND ITS PRECIOUS CHARACTERISTICS RANGES, USERS MUST CERTAINLY REFER TO ICs MANUFACTURE DATASHEET.
Key Features
User-selectable module power supply voltage between 3V3 and 5V

On Board, ON/OFF LED indicator

GebraBit Pin Compatible with GEBRABUS

GebraBit small package

It can be used as a daughter board of GebraBit MCU Modules

Featuring Castellated pad (Assembled as SMD Part)

Separatable screw parts to reduce the size of the board
Pinout Diagram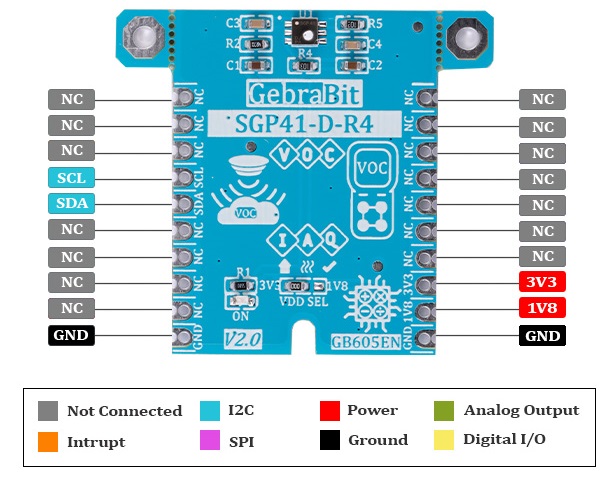 Module Overview
Documents Link