OVERVIEW
GebraBit MG-812 module is a Low Power-Consumption CO2 Module.
GebraBit MG-812 module operate just with an input "5V" supply Voltage.
GebraBit MG-812 module amplifies MG-812 sensor output by an integrated op-amp circuit for better analysis and interpretation and provides it on the module "AO" pin. For reading CO data, just connect the analog "AO" pin to MCU ADC and go on.
The Gas intensity threshold is adjustable by an embedded potentiometer in the GebraBit MG-812 module, when the Gas intensity goes above, or below the threshold, the "DO" pin and the "Dout" LED status will be changed.
MG812 is a chemical type gas sensor that adopts solid electrolyte cell principle, used to detect carbon dioxide. When sensors are exposed to CO2, battery is positive and negative electrode reaction, the sensor produces electromotive force between sensitive electrode and reference electrode, the output voltage signal can be detected carbon dioxide. Small sizes, low power-consumption, high sensitivity and good selectivity. Less affection by temperature and humidity. Steady performance and repeatability are the features that make this sensor usefull for Air quality control, ferment process control and CO2 detection in green house.
WARNING: FOR ACCURATE INFORMATION ABOUT ICs ABSOLUTE MAXIMUM RATINGS AND ITS PRECIOUS CHARACTERISTICS RANGES, USERS MUST CERTAINLY REFER TO ICs MANUFACTURE DATASHEET.
Key Features
On Board, ON/OFF LED indicator

On Board LED indicator for Digital Comparator Output

GebraBit Pin Compatible with GEBRABUS

GebraBit small package

It can be used as a daughter board of GebraBit MCU Modules

Featuring Castellated pad (Assembled as SMD Part)

Separatable screw parts to reduce the size of the board
Pinout Diagram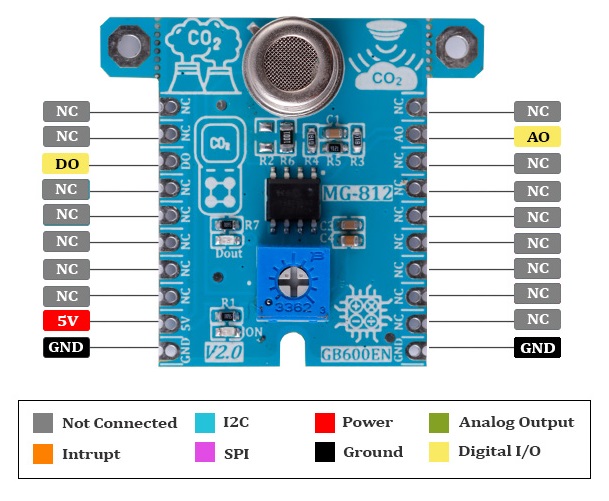 Module Overview
Documents Link