OVERVIEW
GebraBit SHT20 is a digital Humidity and Temperature measurement Module
GebraBit SHT20 operates with 3V3 input Supply Voltage and User can interface with module by I2C protocol.
GebraBit SHT20 has a digital humidity and temperature sensor named SHT20 that provides calibrated and linearized signals in digital I2C format.
This sensor contain a capacitive type humidity sensor, a band gap temperature sensor and specialized analog and digital integrated circuit, all on a single CMOSens® chip. This yields in an unmatched sensor performance in terms of accuracy and stability as well as minimal power consumption.
Every sensor is individually calibrated and tested. Lot identification is printed on the sensor and an electronic identification code is stored on the chip which can be read out by command. Furthermore, the resolution of SHT20 can be changed by command (8/12bit up to 12/14bit for RH/T) and a checksum helps to improve communication reliability
.
WARNING: FOR ACCURATE INFORMATION ABOUT ICs ABSOLUTE MAXIMUM RATINGS AND ITS PRECIOUS  CHARACTERISTICS RANGES, USERS MUST CERTAINLY REFER TO ICs MANUFACTURE DATASHEET.
Key Features
ON/OFF LED indicator

Pin Compatible with GEBRABUS

GebraBit small package

It can be used as a daughter board of GebraBit MCU Modules

Featuring Castellated pad (Assembled as SMD Part)

Separatable screw parts to reduce the size of the board
Pinout Diagram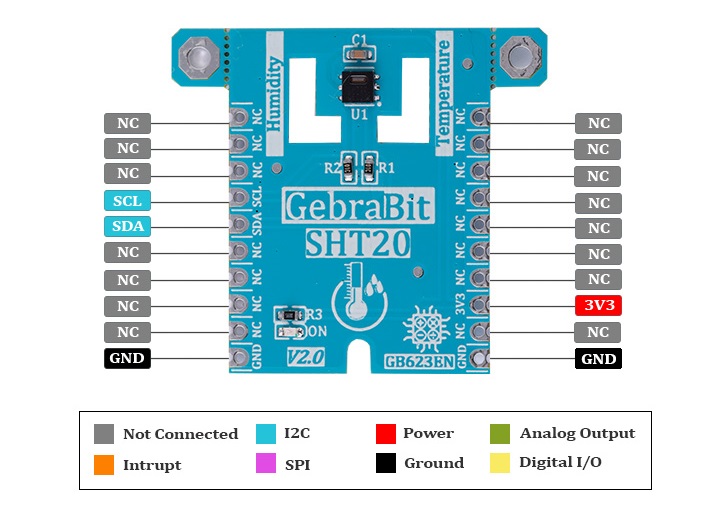 Module Overview
Documents Link