OVERVIEW
GebraBit HS1101LF is a Relative Humidity measurement module with linearized Frequency Output Based on a unique capacitive cell.
GebraBit HS1101LF operates with 3V3 or 5V Supply Voltages which users can easily select with a Considered onboard jumper selector; This feature helps to use a wide range of microcontrollers for interfacing with this module.
GebraBit HS1101LF has an OEM humidity sensor with a capacitive sensing element and an extended temperature range of -60 to +140°C and is designed for large-scale, cost-sensitive applications, such as office automation, automotive cabin air control, home appliances, and industrial process control systems. They are also useful in all applications where humidity compensation is needed.
WARNING: FOR ACCURATE INFORMATION ABOUT ICs ABSOLUTE MAXIMUM RATINGS AND ITS PRECIOUS  CHARACTERISTICS RANGES, USERS MUST CERTAINLY REFER TO ICs MANUFACTURE DATASHEET.
Key Features
User-selectable module power supply voltage between 3V3 and 5V

ON/OFF LED indicator

Pin Compatible with GEBRABUS

GebraBit small package

It can be used as a daughter board of GebraBit MCU Modules

Featuring Castellated pad (Assembled as SMD Part)

Separatable screw parts to reduce the size of the board
Pinout Diagram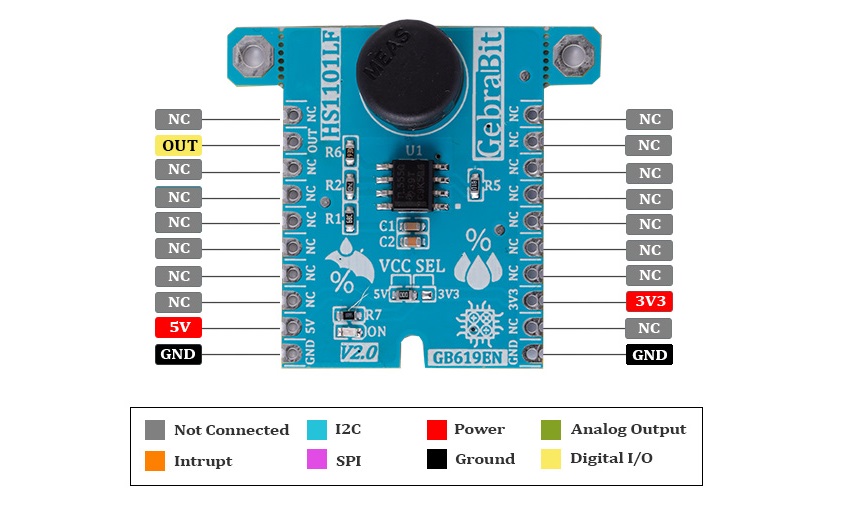 Module Overview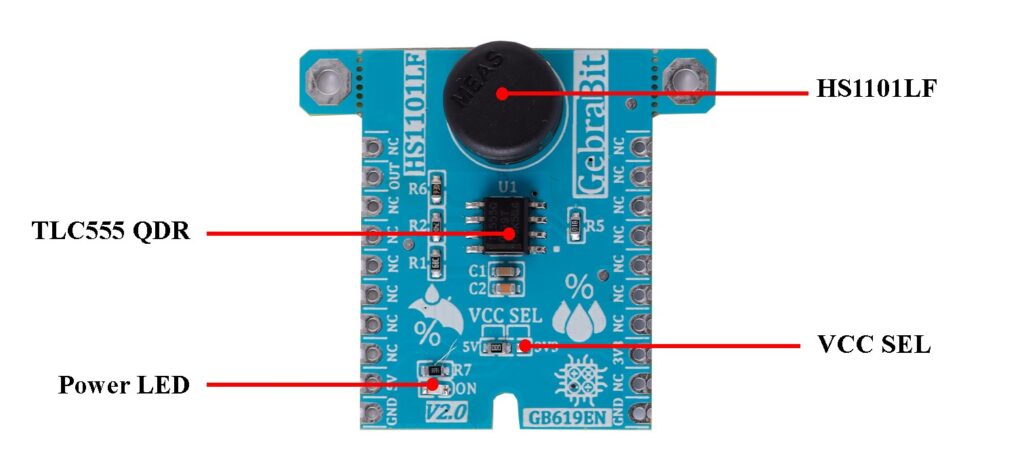 Documents Link