OVERVIEW
GebraBit GM-702B is a MEMS Carbon Monoxide Gas Sensor Module.
GebraBit GM-702B module, due to an integrated 2V5 regulator, needs up to 9V input Supply Voltage to turn the GM-702B heater ON.
Regulator output is accessible on the "2V5" pin if R5 is assembled. Also, there is a jumper selector on the GebraBit GM-702B module named "VGM SEL"  which determines GM-702B Supply Voltage between "5V" or "3V3".
notes that if R2 is assembled VIN=VGM
GM-702B is a MEMS carbon monoxide/hydrogen gas sensor using MEMS micro-fabrication hot plate on a Si substrate base, gas-sensitive materials used in the clean air with low conductivity metal oxide semiconductor material when the sensor is exposed to the gas atmosphere, the conductivity changes as the detected gas concentration in the air. The higher the concentration of the gas, the higher the conductivity. A simple circuit can convert the change of conductivity of the gas concentration corresponding to the output signal.
It is suitable for detecting carbon monoxide/ hydrogen leaks in electronic products such as mobile phones. It is also applicable to CO toxic gas leak monitoring devices, gas leak detectors, and fire/ safety detection systems for household, commercial use and automobiles.
WARNING: FOR ACCURATE INFORMATION ABOUT ICs ABSOLUTE MAXIMUM RATINGS AND ITS PRECIOUS  CHARACTERISTICS RANGES, USERS MUST CERTAINLY REFER TO ICs MANUFACTURE DATASHEET.
Key Features
User-selectable module power supply voltage between 1V8 and 3V

On Board, ON/OFF LED indicator

GebraBit Pin Compatible with GEBRABUS

GebraBit small package

It can be used as a daughter board of GebraBit MCU Modules

Featuring Castellated pad (Assembled as SMD Part)

Separatable screw parts to reduce the size of the board
Pinout Diagram
Module Overview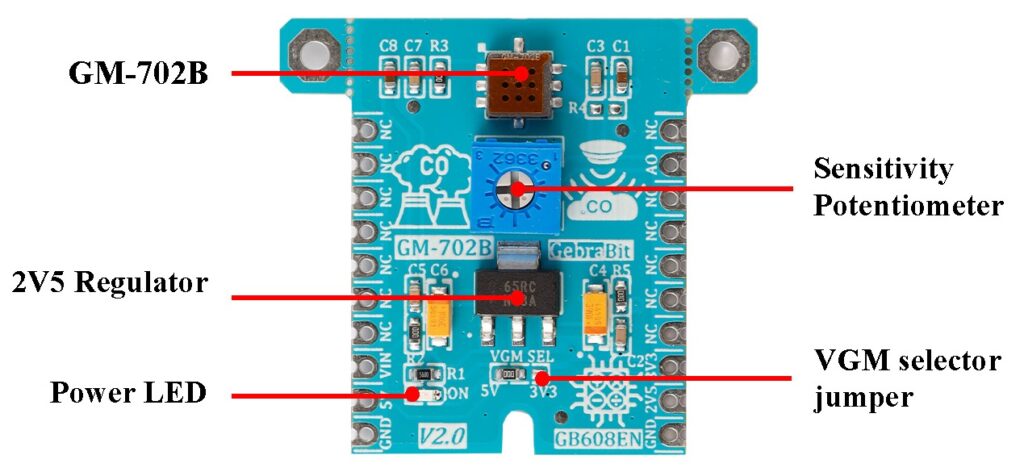 Documents Link