OVERVIEW
GebraBit CC254X is a power-optimized true system on chip (SoC) solution for both Bluetooth low energy and proprietary 2.4-GHz applications module.
GebraBit CC254X, which features a PCB antenna and 32.768Khz & 32Mhz crystals, operates with a 5V input Supply Voltage due to an integrated 3V3 regulator which its output is accessible on the "3V3" pin. Also, Users can access the most important pins of the CC254X through the GebraBit CC254X module. Pins like USB, SPI, I2C, UART, RESET, and other pins that below image is showing. Even "P2.2" & "P2.1" pins that users can program and upgrade the firmware of CC254X through them. The GebraBit CC254X  module can be driven via the serial interface using the standard AT commands.
As its clear, the module core is CC2541 or CC2540  , which are cost-effective, low-power, and true system-on-chip (SoC) solutions for Bluetooth low energy applications. They enable robust BLE master or slave nodes to be built with very low total bill-of-material costs. The CC2540 and CC2541 combine the excellent performance of a leading RF transceiver with an industry-standard enhanced 8051 MCU, in-system programmable flash memory, 8-KB RAM, and many other powerful supporting features and peripherals. The CC2540 and CC2541 are suited for systems where very low power consumption is required. Very low-power sleep modes are available. Short transition times between operating modes further enable low power consumption.
WARNING: FOR ACCURATE INFORMATION ABOUT ICs ABSOLUTE MAXIMUM RATINGS AND ITS PRECIOUS  CHARACTERISTICS RANGES, USERS MUST CERTAINLY REFER TO ICs MANUFACTURE DATASHEET.
Key Features
PCB trace antenna

Access to important pins of CC254X

Just 5V input voltage is sufficient for powering the module on

3V3 Voltage Regulator

3V3 Output Voltage

ON/OFF LED indicator

The capability of programming and firmware upgrading by"2"&"P2.1" pins

32 Mhz and 32.768 Khz SMD CRYSTAL

Pin Compatible with GEBRABUS

GebraBit small package

It can be used as a daughter board of GEBRABIT MCU Modules

Featuring Castellated pad (Assembled as SMD Part)

Separatable screw parts to reduce the size of the board
Pinout Diagram

Module Overview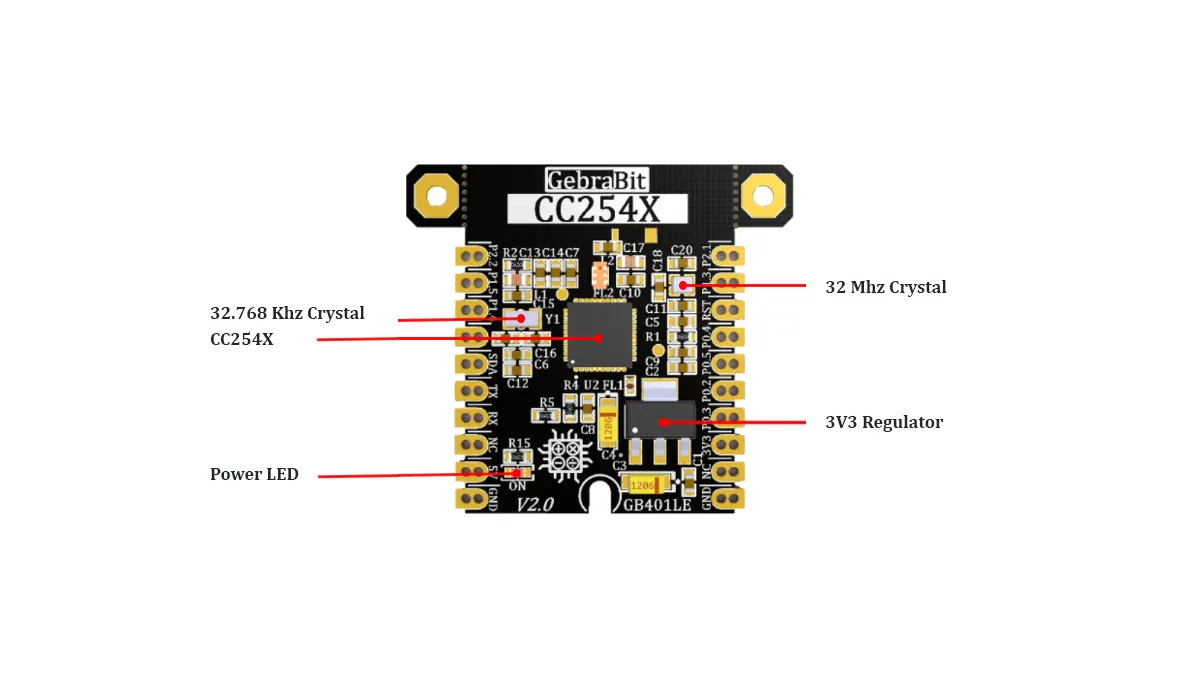 Documents Link