OVERVIEW
GebraBit USEQGSEAC82180 photoacoustic NDIR CO2 MEASUREMENT MODULE
GebraBit USEQGSEAC82180 operates with 3V3 and 5V Supply Voltages that users can easily select with jumper selector of the module.
User can interface with GebraBit USEQGSEAC82180 by I2C protocol with the module.
Also, Users can access to the interrupt (int) Pin of USEQGSEAC82180 through the GebraBit USEQGSEAC82180 module.
The USEQGSEAC82180 is KEMET QGS thin film digital pyroelectric IR sensors for gas detection and concentration measurement combine high sensitivity with fast response times and high dynamic range to ensure rapid and accurate detection of target gases. These high quality sensors, in their small SMD package, integrate a digital, current mode read-out that enables lower IR-emitter duty cycles, thereby saving significantly on system level power consumption, while maintaining high SNR. Industry standard I2C communication enables plug and play connectivity to microcontrollers and allows easy tuning and calibration. Programmable gain and filtering offer maximum flexibility in system design, and various optical filter options are also available. These sensors can be connected together in linear series to allow synchronized sampling across devices.
Their long and maintenance-free operational lifetime makes them ideal for highly demanding automotive or medical applications.
WARNING: FOR ACCURATE INFORMATION ABOUT ICs ABSOLUTE MAXIMUM RATINGS AND ITS PRECIOUS CHARACTERISTICS RANGES, USERS MUST CERTAINLY REFER TO ICs MANUFACTURE DATASHEET.
Key Features
User-selectable module power supply voltage between 3V3 and 5V

On Board, ON/OFF LED indicator

On Board LED indicator for module interrupt

Access to interrupt pin of the sensor

GebraBit Pin Compatible with GEBRABUS

GebraBit small package

It can be used as a daughter board of GebraBit MCU Modules

Featuring Castellated pad (Assembled as SMD Part)

Separatable screw parts to reduce the size of the board
Pinout Diagram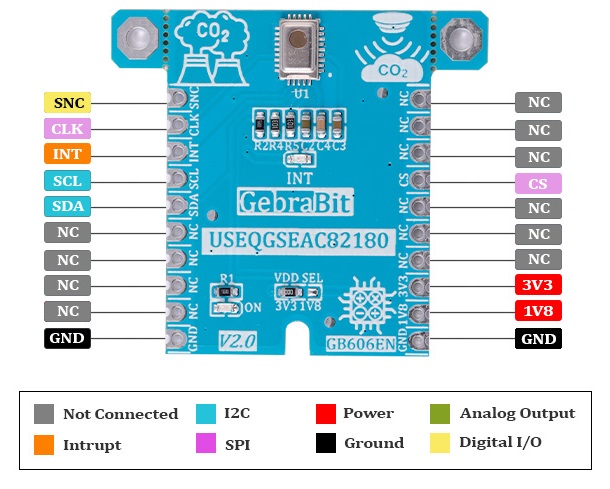 Module Overview
Documents Link