OVERVIEW
GebraBit ISL76671AROZ-T7 Is a light-to-voltage silicon optical module close to the human eye spectral response with rejecting UV and IR light.
GebraBit ISL76671AROZ-T7 module can operate with "1V8" or "3V3" supply Voltages by Considered "VDD SEL" jumper selector.
The User can set the output scaling of the BHC160FVC-TR sensor by using considered onboard jumpers.
Sensor Output data is available as the analog voltage on Gebrabit BHC160FVC-TR "VO" pin.
The ISL76671 is a low-cost, light-to-voltage silicon optical sensor combining a photodiode array, a non-linear current amplifier, and a micro-power op-amp on a single monolithic IC. Similar to the human eye, the photodiode array has peak sensitivity at 550nm and spans the wavelength range from 400nm to 600nm, rejecting UV and IR light. The input luminance range is from 0.01 lux to 100 lux.
WARNING: FOR ACCURATE INFORMATION ABOUT ICs ABSOLUTE MAXIMUM RATINGS AND ITS PRECIOUS  CHARACTERISTICS RANGES, USERS MUST CERTAINLY REFER TO ICs MANUFACTURE DATASHEET.
Key Features
User-selectable module power supply voltage between 1V8 and 3V3

Output scaling adjustable by jumpers

Analog voltage OUTPUT

On Board, ON/OFF LED indicator

Pin Compatible with GEBRABUS

GEBRABIT small package

It can be used as a daughter board of GEBRABIT MCU Modules

Featuring Castellated pad (Assembled as SMD Part)

Separatable screw parts to reduce the size of the board

Featuring Castellated pad (Assembled as SMD Part)

Separatable screw parts to reduce the size of the board
Pinout Diagram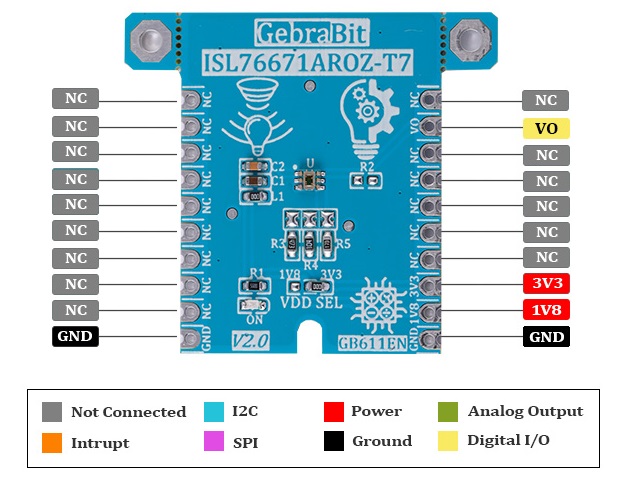 Module Overview

Documents Link






ISL76671AROZ-T7 Datasheet