OVERVIEW
GebraBit TSL25721FN is a module that provides ambient light sensing (ALS).
GebraBit TSL25721FN module operates with "3V3".
The GebraBit TSL25721FN module communicates with the I2C protocol and features a LED indicator for Dedicated Interrupt Pin.
The TSL2572 provides ALS that approximates human eye response to light intensity under a variety of lighting conditions and through a variety of attenuation materials. Accurate ALS measurements are the result of ams' patented dual-diode technology and the UV rejection filter incorporated in the package. In addition, the operating range is extended to 60,000 lux in sunlight when the low-gain mode is used.
WARNING: FOR ACCURATE INFORMATION ABOUT ICs ABSOLUTE MAXIMUM RATINGS AND ITS PRECIOUS  CHARACTERISTICS RANGES, USERS MUST CERTAINLY REFER TO ICs MANUFACTURE DATASHEET.
Key Features
On Board, ON/OFF LED indicator

I2C interface for reading data and configuring the sensor

GEBRABIT Pin Compatible with GEBRABUS

LED indicator for Dedicated Interrupt Pin

GEBRABIT small package

It can be used as a daughter board of GEBRABIT MCU Modules

Featuring Castellated pad (Assembled as SMD Part)

Separatable screw parts to reduce the size of the board
Pinout Diagram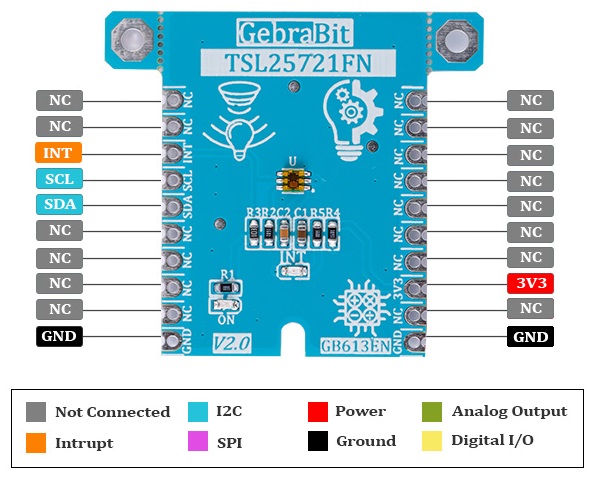 Module Overview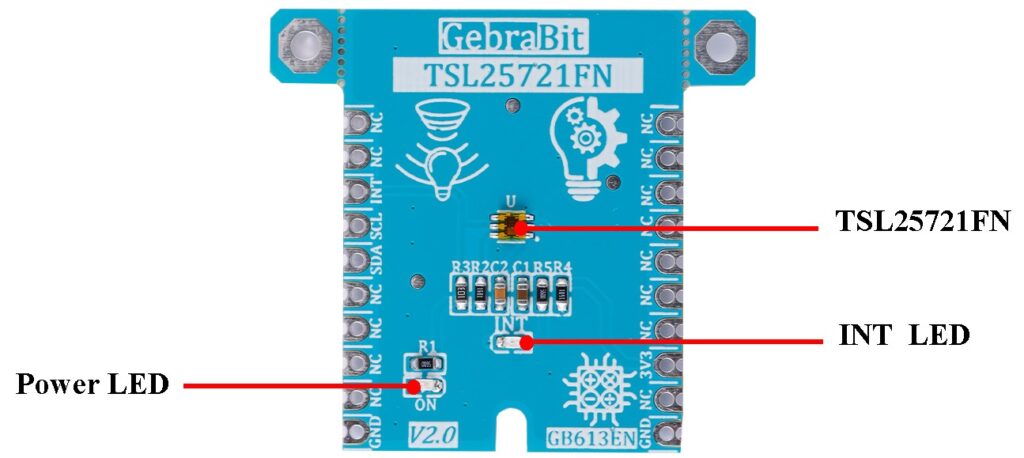 Documents Link