OVERVIEW
GebraBit UVB-SENSOR features Photovoltaic Mode Schottky-type Photodiode.
This module can operate with "3V3" or "5V" supply Voltages by Considered "VCC SEL" jumper selector.
As you know, sensor Output is current type, so GebraBit UVB-SENSOR has an integrated op-amp which converts UV-B Photodiode Output, to an analog voltage on the "A0" pin.
UVB-SENSOR is a UV Schottky-type photodiode, which can detect the 280-315 nm wavelength range of UV light.
WARNING: FOR ACCURATE INFORMATION ABOUT ICs ABSOLUTE MAXIMUM RATINGS AND ITS PRECIOUS  CHARACTERISTICS RANGES, USERS MUST CERTAINLY REFER TO ICs MANUFACTURE DATASHEET.
Key Features
User-selectable module power supply voltage between 3V3 and 5V

Photovoltaic Mode Schottky-type Photodiode

integrated op-amp

On Board, ON/OFF LED indicator

GebraBit Pin Compatible with GEBRABUS

GebraBit small package

It can be used as a daughter board of GebraBit MCU Modules

Featuring Castellated pad (Assembled as SMD Part)

Separatable screw parts to reduce the size of the board
Pinout Diagram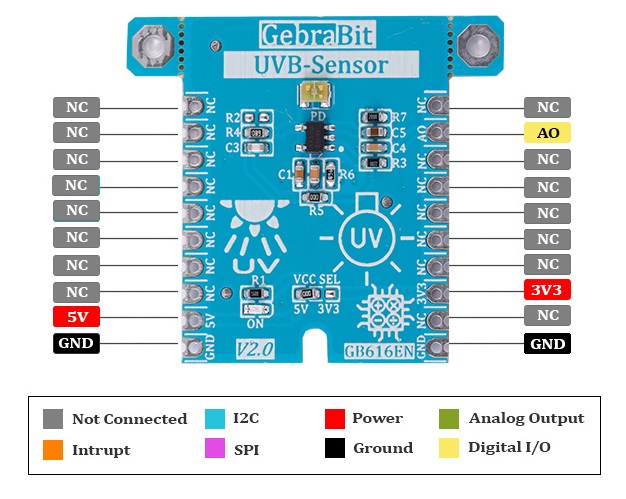 Module Overview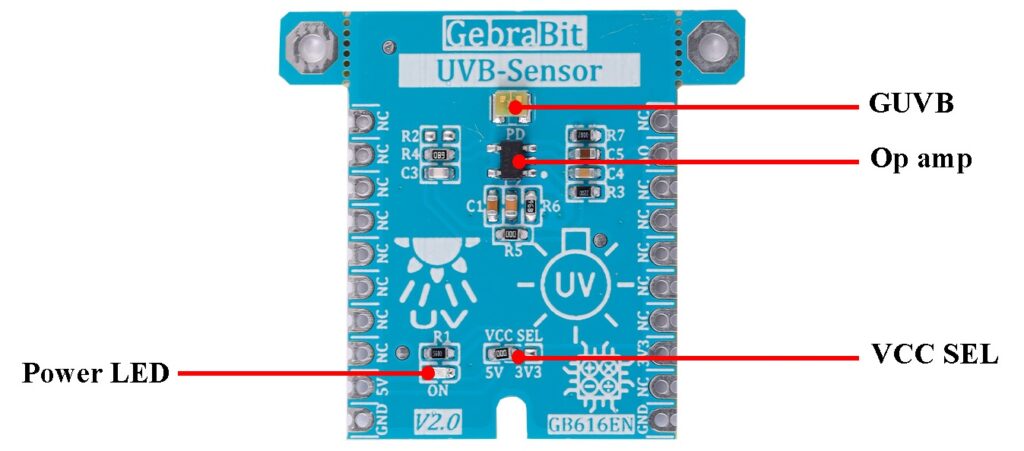 Documents Link