)OVERVIEW
GebraBit SCD40-D-R1 photoacoustic NDIR CO2 MEASUREMENT MODULE
GebraBit SCD40-D-R1 operates with 3V3 and 5V Supply Voltages that users can easily select with jumper selector of the module.
User can interface with GebraBit SCD40-D-R1 by I2C protocol with the module.
The SCD40-D-R1 is Sensirion's next generation miniature CO2 sensor. This sensor builds on the photoacoustic sensing principle and Sensirion's patented PAsens® and CMOSens® technology to offer high accuracy at an unmatched price and smallest form factor. On-chip signal compensation is realized with the build-in SHT4x humidity and temperature sensor. CO2 is a key indicator for indoor air quality as high levels compromise humans' cognitive low power and well-being. The SCD4x enables smart ventilation systems to regulate ventilation in the most energy-efficient and human-friendly way. Moreover, indoor air quality monitors and other connected devices based on the SCD4x can help maintaining low CO2 concentration for a healthy, productive environment.
WARNING: FOR ACCURATE INFORMATION ABOUT ICs ABSOLUTE MAXIMUM RATINGS AND ITS PRECIOUS CHARACTERISTICS RANGES, USERS MUST CERTAINLY REFER TO ICs MANUFACTURE DATASHEET.
Key Features
User-selectable module power supply voltage between 3V3 and 5V

On Board, ON/OFF LED indicator

GebraBit Pin Compatible with GEBRABUS

GebraBit small package

It can be used as a daughter board of GebraBit MCU Modules

Featuring Castellated pad (Assembled as SMD Part)

Separatable screw parts to reduce the size of the board
Pinout Diagram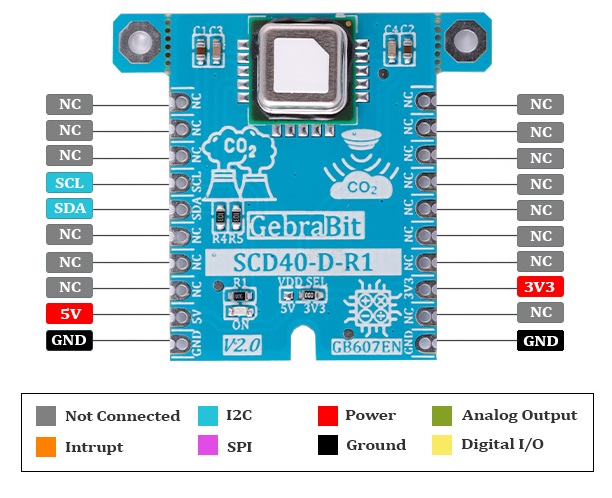 Module Overview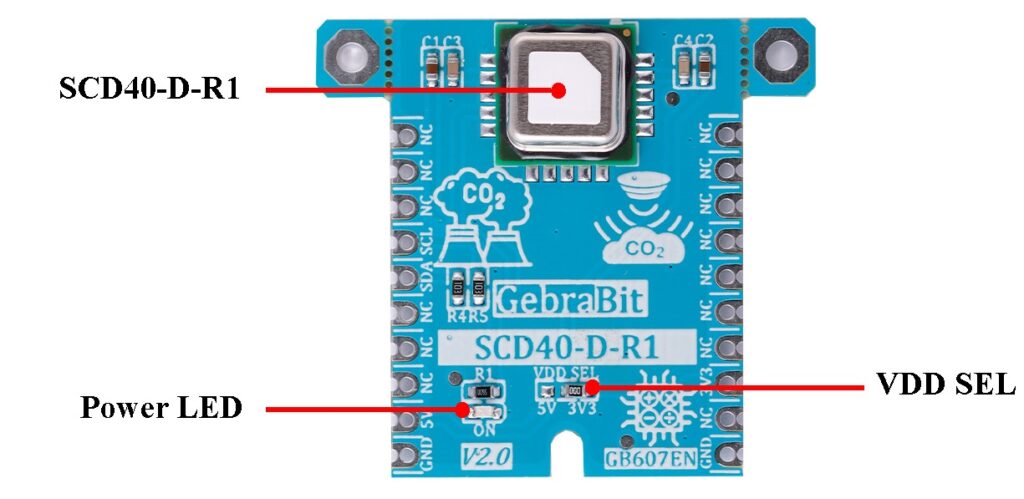 Documents Link