OVERVIEW
Gebrabit MQ7 Semiconductor Carbon Monoxide measurement module.
GebraBit MQ7 module is a Low Power-Consumption CO2 Module.
GebraBit MQ7 module operate just with an input "5V" supply Voltage.
GebraBit MQ7 module amplifies MQ7 sensor output by an integrated op-amp circuit for better analysis and interpretation and provides it on the module "AO" pin. For reading CO data, just connect the analog "AO" pin to MCU ADC and go on.
Sensitivity can be adjusted by embedded potentiometer of the right side of the module.
The Gas intensity threshold is adjustable by an embedded potentiometer in the GebraBit MQ7 module, when the Gas intensity goes above, or below the threshold, the "DO" pin and the "Dout" LED status will be changed.
The Sensitive material of MQ-7 gas sensor is SnO2, which with lower conductivity in clean air. It make detection by method of cycle high and low temperature, and detect CO when low temperature. The sensor's conductivity is more higher along with the gas concentration rising. When high temperature, it cleans the other gases adsorbed under low temperature. MQ-7 gas sensor has high sensitity to Carbon Monoxide. The sensor could be used to detect different gases contains CO, it is with low cost and suitable for different application.
WARNING: FOR ACCURATE INFORMATION ABOUT ICs ABSOLUTE MAXIMUM RATINGS AND ITS PRECIOUS CHARACTERISTICS RANGES, USERS MUST CERTAINLY REFER TO ICs MANUFACTURE DATASHEET.
Key Features
On Board, ON/OFF LED indicator

On Board LED indicator for Digital Comparator Output

GEBRABIT Pin Compatible with GEBRABUS

GEBRABIT small package

It can be used as a daughter board of GEBRABIT MCU Modules

Featuring Castellated pad (Assembled as SMD Part)

Separatable screw parts to reduce the size of the board
Pinout Diagram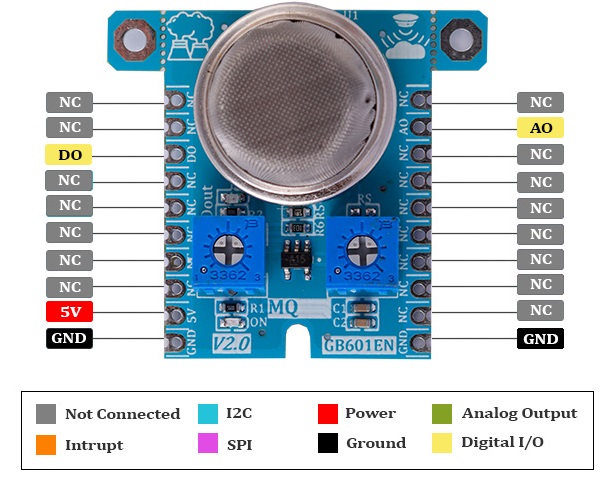 Module Overview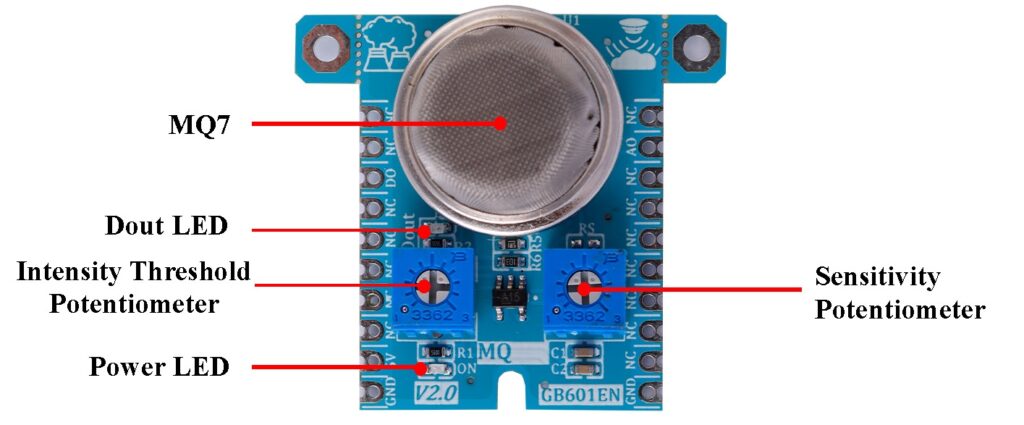 Documents Link