OVERVIEW
GebraBit DPS310XTSA1 is a Digital XENSIVTM Barometric Pressure and temperature module.
GebraBit DPS310XTSA1 module can operate with "1V8" or "3V3" supply Voltages by Considered "VDD SEL" jumper selector. Also there is an another jumper named "VDIO SEL ", which is regarded to select logic level voltage of module I/O pins between "1V8" or "3V3". This feature helps to use a wide range of microcontrollers for interfacing with this module.
User can interface with GebraBit DPS310XTSA1 by either I2C or SPI protocol. This is achieved by dedicated four jumper selectors on the top right of the GebraBit DPS310XTSA1 module. Furthermore, the last jumper selector (Fifth) is considered for setting the I2c address.
DPS310XTSA1 is a Digital XENSIVTM Barometric Air Pressure Sensor with high accuracy and low current consumption, capable of measuring pressure and temperature. The pressure sensor element is based on a capacitive sensing principle which guarantees high precision during temperature changes. The small package makes the DPS310 ideal for mobile applications and wearable devices.    
WARNING: FOR ACCURATE INFORMATION ABOUT ICs ABSOLUTE MAXIMUM RATINGS AND ITS PRECIOUS CHARACTERISTICS RANGES, USERS MUST CERTAINLY REFER TO ICs MANUFACTURE DATASHEET.
Key Features
User-selectable module power supply voltage between 1V8 and 3V3

User-selectable module I/O logic voltage between 1V8 and 3V3

User-selectable interface protocol (I2C or SPI)

User-selectable I2C address

On Board, ON/OFF LED indicator

GebraBit Pin Compatible with GEBRABUS

GebraBit small package

It can be used as a daughter board of GebraBit MCU Modules

Featuring Castellated pad (Assembled as SMD Part)

Separatable screw parts to reduce the size of the board
Pinout Diagram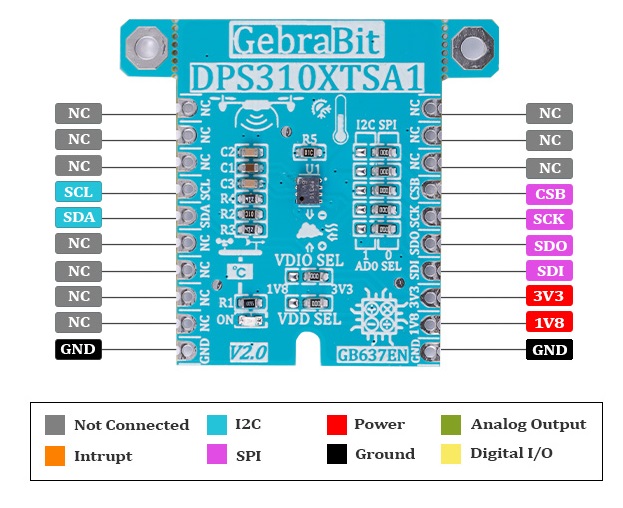 Module Overview
Documents Link