OVERVIEW
GebraBit MAX30003 is a 2 lead, single biopotential channel providing ECG waveforms and heart rate detection module.
GebraBit MAX30003 operates with a "3V3" input Supply Voltage due to an integrated 1V8 regulator, which regulator output is accessible on the "1V8" pin. Also there is a jumper selector  which is regarded to select logic level voltage of module I/O pins between "1V8" or "3V3". This feature helps to use a wide range of microcontrollers for interfacing with this module.
GebraBit MAX30003 module benefits from MAX30003  single biopotential channel that provides ECG waveforms and heart rate detection.For this reason, a 3.5mm headphone jack female socket is considered . This means any 3-lead ECG cable with a 3.5mm male phone jack can meet our requirements.Ofcourse you need just 2 leads out of 3!
Another important issue of  GebraBit MAX30003 is that this module is Pin Compatible with GEBRABUS , and users can access all important I/O of MAX30003 . For reading data and configuring the sensor, an SPI interface is required.
This module carries MAX30003 , is a complete, biopotential, analog frontend solution for wearable applications. It offers high performance for clinical and fitness applications, with ultra-low power for long battery life. The MAX30003 is a single biopotential channel providing ECG waveforms and heart rate detection. The biopotential channel has ESD protection, EMI filtering, internal lead biasing, DC leads-off detection, ultra-low power leads-on detection during standby mode, and extensive calibration voltages for built-in self-test. Soft power-up sequencing ensures no large transients are injected into the electrodes. The biopotential channel also has high input impedance, low noise, high CMRR, programmable gain, various low-pass and high-pass filter options, and a high resolution analog-to-digital converter. The biopotential channel is DC coupled, can handle large electrode voltage offsets, and has a fast recovery mode to quickly recover from overdrive conditions, such as defibrillation and electrosurgery.
WARNING: FOR ACCURATE INFORMATION ABOUT ICs ABSOLUTE MAXIMUM RATINGS AND ITS PRECIOUS  CHARACTERISTICS RANGES, USERS MUST CERTAINLY REFER TO ICs MANUFACTURE DATASHEET.
Key Features
User Selectable I/O logic level voltage between 1V8 and 3V3
768Khz  crystal oscillator clock source

1V8 Voltage Regulator

1V8 Output Voltage

Can use 3-lead ECG cable with 3.5mm phone male jack

ON/OFF LED indicator

Access to important I/O of MAX30003
SPI interface for reading data and configuring the sensor

Pin Compatible with GEBRABUS

GebraBit Small package

It can be used as a daughter board of GEBRABIT MCU Modules

Featuring Castellated pad (Assembled as SMD Part)

Separatable screw parts to reduce the size of the board
Pinout Diagram
Module Overview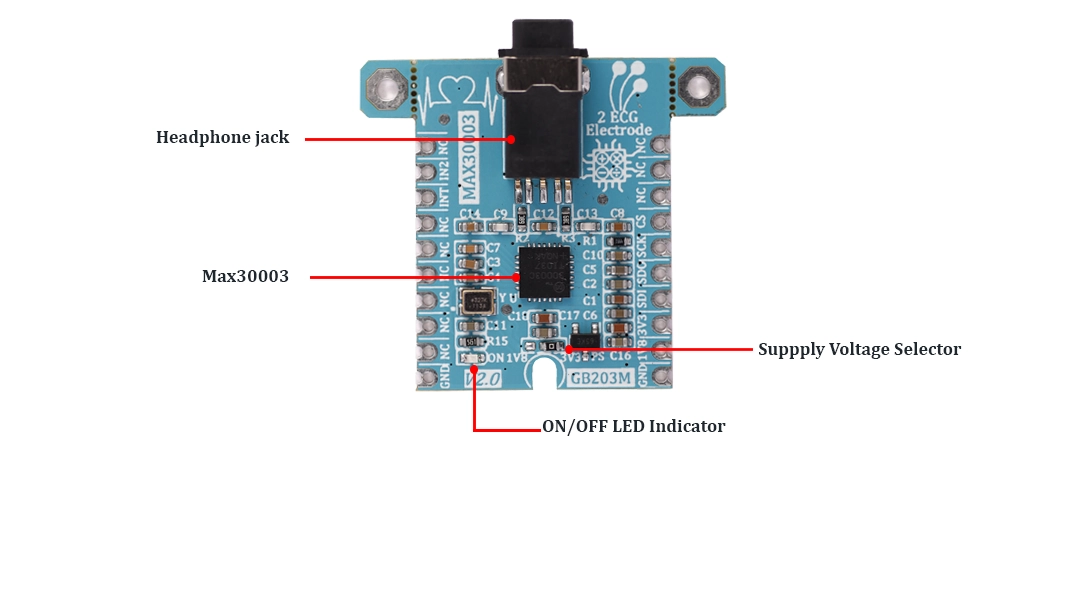 Documents Link