OVERVIEW
GebraBit AD8232 is a 3 lead, integrated signal conditioning block for ECG and other biopotential measurement module.
GebraBit AD8232 operates with just a "3V3" input Supply Voltage and benefits from AD8232  integrated ECG signal conditioning block. For this reason, a 3.5mm headphone jack female socket is considered. This means any 3-lead ECG cable with a 3.5mm male phone jack can meet our requirements.
Besides the ON/OFF LED indicator, there is another LED that blinks when electrical activity is detected. When the reading is reasonably stable, the LED will flash with your heart rate and can be used as a general indicator of whether your device is receiving electrical signals.
Another important issue of  GebraBit AD8232 is that this module is Pin Compatible with GEBRABUS , and users can access to important I/O of AD8232. For reading data and getting ECG waveform, just connect the analog "OUT" pin to MCU ADC and go on!
This module carries AD8232 ,is an integrated signal conditioning block for ECG and other biopotential measurement applications. It is designed to extract, amplify, and filter small biopotential signals in the presence of noisy conditions, such as those created by motion or remote electrode placement. This design allows for an ultralow power analog-to-digital converter (ADC) or an embedded microcontroller to acquire the output signal easily. The AD8232 can implement a two-pole high-pass filter for eliminating motion artifacts and the electrode half-cell potential. This filter is tightly coupled with the instrumentation architecture of the amplifier to allow both large gain and high-pass filtering in a single stage, thereby saving space and cost. An uncommitted operational amplifier enables the AD8232 to create a three-pole low-pass filter to remove additional noise. The user can select the frequency cutoff of all filters to suit different types of applications. To improve common-mode rejection of the line frequencies in the system and other undesired interferences, the AD8232 includes an amplifier for driven lead applications, such as right leg drive (RLD). The AD8232 includes a fast restore function that reduces the duration of otherwise long settling tails of the high-pass filters.
WARNING: FOR ACCURATE INFORMATION ABOUT ICs ABSOLUTE MAXIMUM RATINGS AND ITS PRECIOUS  CHARACTERISTICS RANGES, USERS MUST CERTAINLY REFER TO ICs MANUFACTURE DATASHEET.
Key Features
3V3 input voltage
Can use 3-lead ECG cable with 3.5mm phone male jack

LED indicator for heart rate

ON/OFF LED indicator

Access to important I/O of AD8232

Pin Compatible with GEBRABUS

GebraBit Small package

It can be used as a daughter board of GEBRABIT MCU Modules

Featuring Castellated pad (Assembled as SMD Part)

Separatable screw parts to reduce the size of the board
Pinout Diagram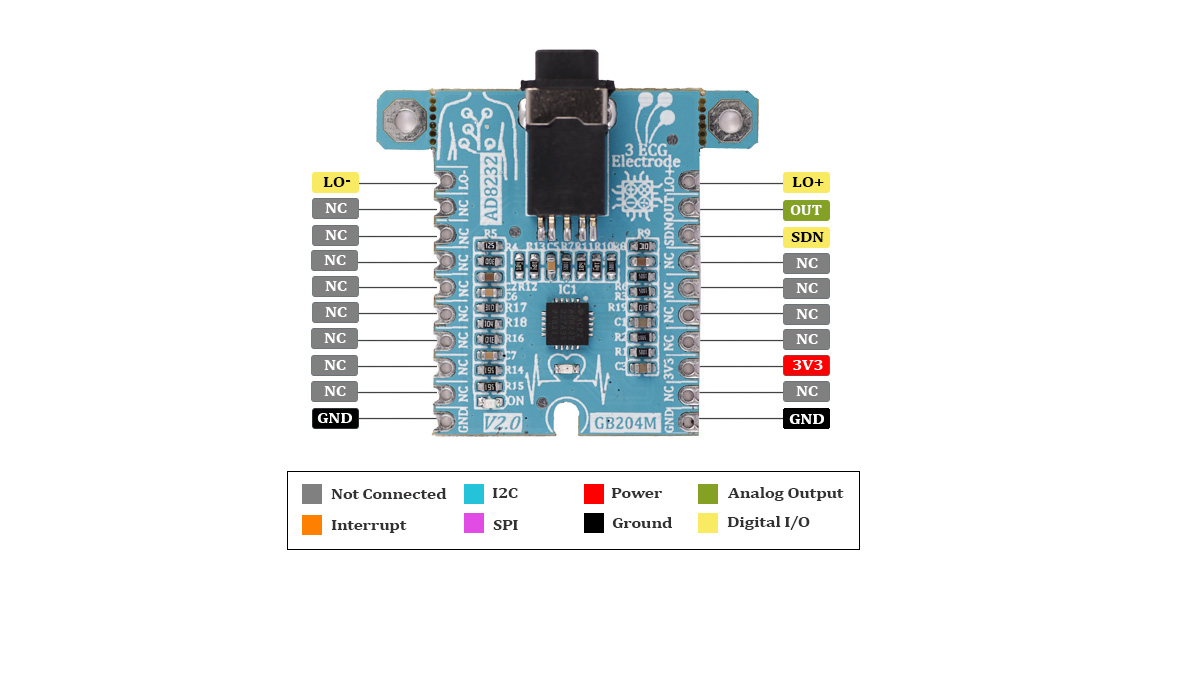 Module Overview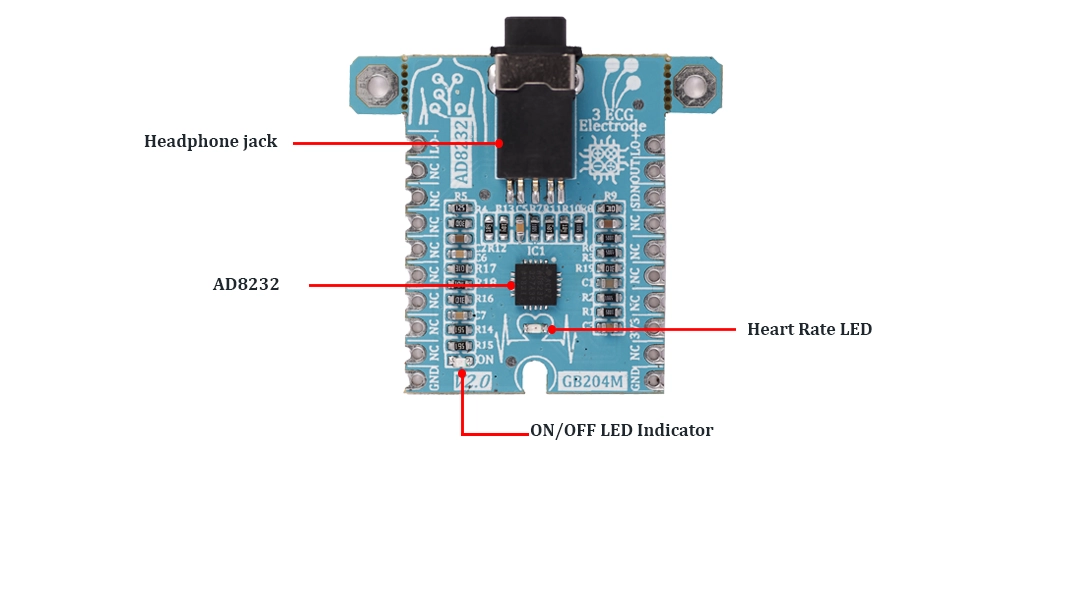 Documents Link