OVERVIEW
GebraBit 2SMPP-02 is a low temperature influence MEMS Gauge pressure Module.
GebraBit 2SMPP-02 module operate with "5V" supply Voltage.
2SMPP-02 utilizes a piezoresistive type sensing element which needs a constant current drive to convert pressure to voltage and because of that GebraBit 2SMPP-02 module is optimized to provide a constant current of 100uA to the Piezo resistor and  As a result, depending on the pressure change, the output of the module will be change.
2SMPP-02 is an analog low temperature influence MEMS Gauge pressure Sensor that utilizes a piezoresistive element that provides electrical characteristics superior to capacitive pressure sensors. Applications for these sensors include medical equipment, home appliances, air movement control, level indicators, leak detection, and pressure controllers.
WARNING: FOR ACCURATE INFORMATION ABOUT ICs ABSOLUTE MAXIMUM RATINGS AND ITS PRECIOUS CHARACTERISTICS RANGES, USERS MUST CERTAINLY REFER TO ICs MANUFACTURE DATASHEET.
Key Features
On Board, ON/OFF LED indicator

GebraBit Pin Compatible with GEBRABUS

GebraBit small package

It can be used as a daughter board of GebraBit MCU Modules

Featuring Castellated pad (Assembled as SMD Part)

Separatable screw parts to reduce the size of the board
Pinout Diagram
Module Overview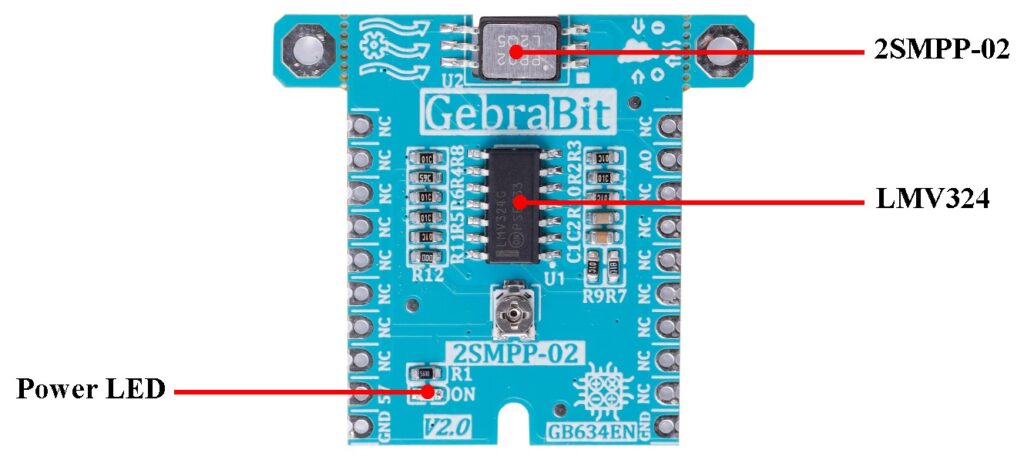 Documents Link