OVERVIEW
GebraBit MS5637 is a digital Barometric Pressure Module.
GebraBit MS5637 module can operate with "1V8" or "3V3" supply Voltages by Considered "VDD SEL" jumper selector.
GebraBit MS5637 module communicated with I2C bus.
MS563702BA03 is an ultra-compact micro altimeter. It is optimized for altimeter and barometer applications in Smartphones and Tablet PCs. The altitude resolution at sea level is 13 cm of air. The sensor module includes a high-linearity pressure sensor and an ultra-low power 24bit ΔΣ ADC with internal factory-calibrated coefficients. It provides a precise digital 24-bit pressure, temperature value, and operation modes that allow the user to optimize conversion speed and current consumption. A high-resolution temperature output allows the implementation of an altimeter/thermometer function without any additional sensor.
 WARNING: FOR ACCURATE INFORMATION ABOUT ICs ABSOLUTE MAXIMUM RATINGS AND ITS PRECIOUS CHARACTERISTICS RANGES, USERS MUST CERTAINLY REFER TO ICs MANUFACTURE DATASHEET.
Key Features
User-selectable module power supply voltage between 1V8 and 3V3

On Board, ON/OFF LED indicator

GebraBit Pin Compatible with GEBRABUS

GebraBit small package

It can be used as a daughter board of GebraBit MCU Modules

Featuring Castellated pad (Assembled as SMD Part)

Separatable screw parts to reduce the size of the board
Pinout Diagram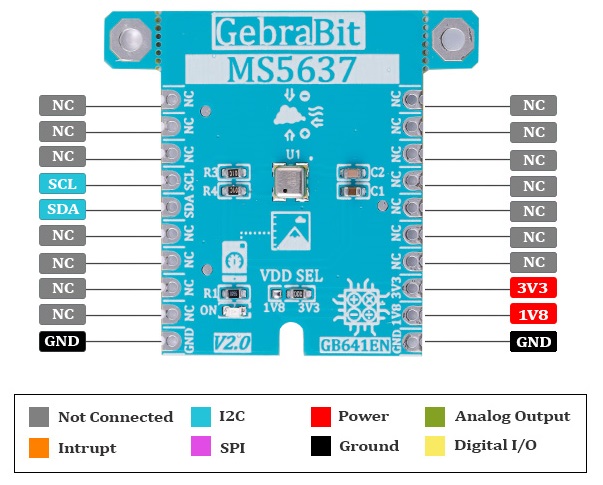 Module Overview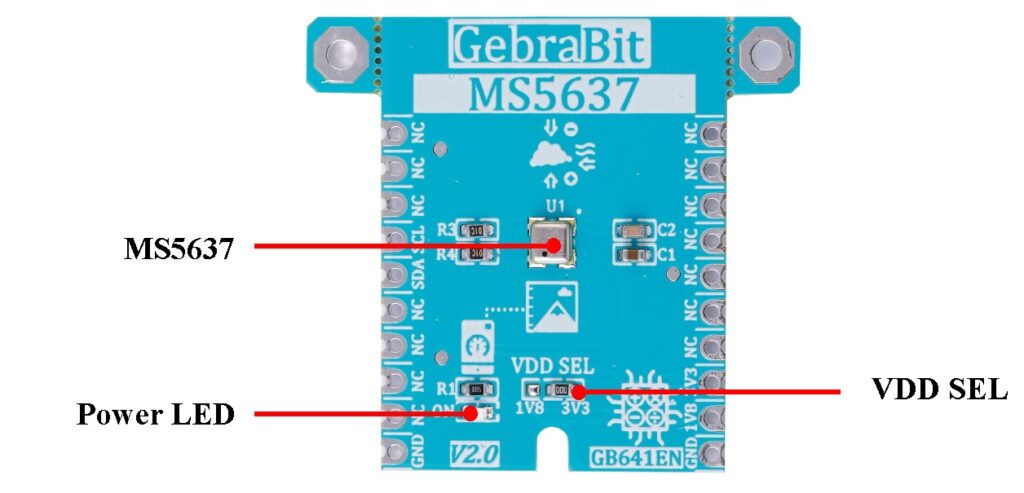 Documents Link