OVERVIEW
GebraBit ADS1192 is 4 lead, 2 simultaneous channel sampling, 16 Bit ECG sensor Module.
GebraBit ADS1192 needs 2 voltages for both analog and digital supply of ADS1192. As a result, 2 jumper selector is considered to user select desired supply voltage between  3V3, and 5V.
GebraBit ADS1192 offers 2 choices for ADS1192 clock source ; one is ADS1192 Internal oscillator and the other, external, means on board 2.048Mhz crystal oscillator or 'CLK' pin. This is achieved by the 'CLK SEL' jumper selector. Also 'EXT  CLK' jumper demonstrates an external clock source, whether the 'CLK' pin or 2.048Mhz  Onboard crystal oscillator.
GebraBit ADS1192 module benefits from 2 channels of ADS1192 sensor due to considered TYPE-C female socket. This means a custom-built 5-lead ECG cable is provided to cover this requirement.Ofcourse you need just 4 lead out of 5!
Another important issue of  GebraBit ADS1192  is that this module is Pin Compatible with GEBRABUS , and users can access all important I/O of ADS1192 . For reading data and configuring the sensor, an SPI interface is required.
This Module carries ADS1192, a family of multichannel,simultaneous sampling, 16-bit, delta-sigma (ΔΣ)analog-to-digital converters (ADCs) with a built-inprogrammable gain amplifier (PGA), internal reference, and an onboard oscillator.The ADS1191/2  operate at data rates as high as 8kSPS.Lead-off detection can be implemented internal to the device,using the device internal excitation current sink/source.The ADS1191/2 have a flexible input multiplexer per channel that can be independently connected to the internally-generated signals for test, temperature, and lead-off detection. Additionally, any configuration of input channels can be selected for derivation of the right leg drive (RLD) output signal.
WARNING: FOR ACCURATE INFORMATION ABOUT ICs ABSOLUTE MAXIMUM RATINGS AND ITS PRECIOUS  CHARACTERISTICS RANGES, USERS MUST CERTAINLY REFER TO ICs MANUFACTURE DATASHEET.
Key Features
User selectable analog and digital supply voltage

User selectable ADS1192 clock source (Internal or external )

2.048 Mhz  crystal oscillator

Benefits from 2 channel of ADS1192
Custom-built TYPE-C 5 lead ECG cable  

ON/OFF LED indicator

Access to important I/O of ADS1192
SPI interface for reading data and configuring the sensor

Pin Compatible with GEBRABUS

GebraBit Medium package

It can be used as a daughter board of GEBRABIT MCU Modules

Featuring Castellated pad (Assembled as SMD Part)

Separatable screw parts to reduce the size of the board
Pinout Diagram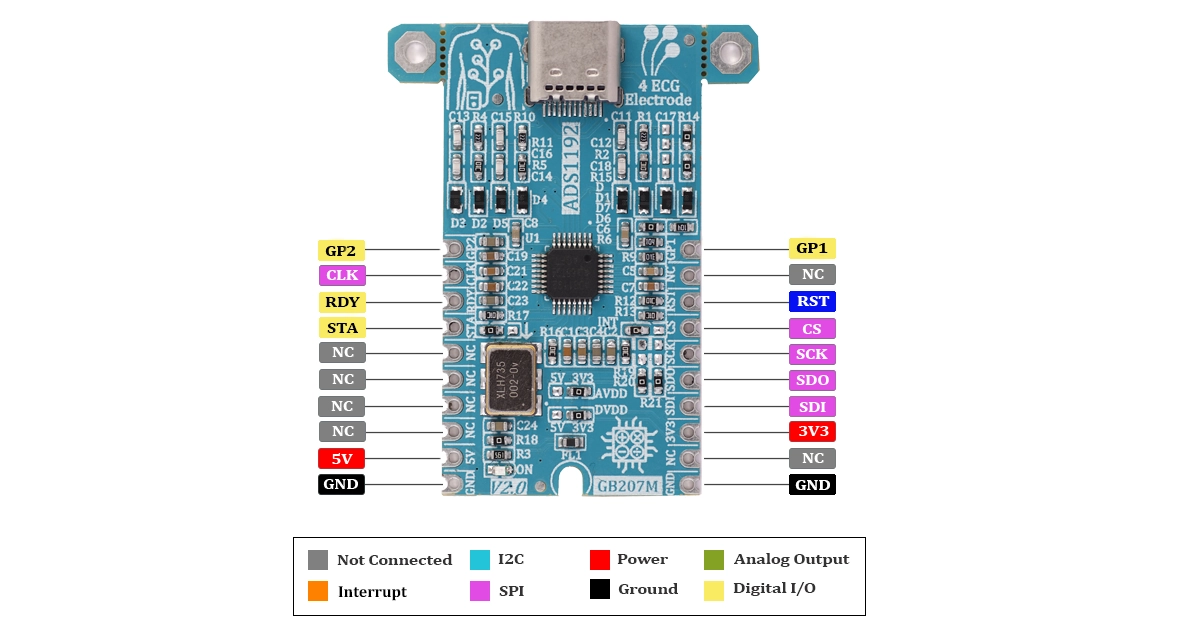 Module Overview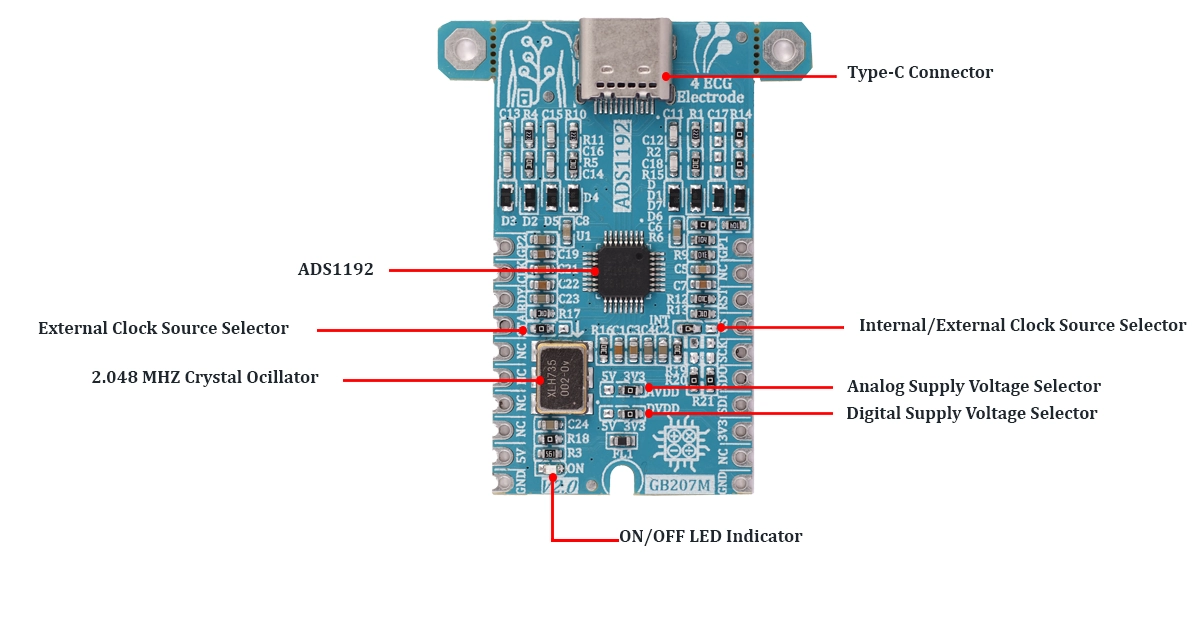 Documents Link