OVERVIEW
GebraBit BUZZER features active or passive BUZZER.
GebraBit BUZZER can operate with "3V3" or "5V" supply Voltages by considered "VCC SEL" jumper selector.
The buzzer input signal is given to the GebraBit BUZZER module by the "BUZ" pin which is Active LOW. "Signal" LED indicates signal status.
For easy accessibility, GebraBit BUZZER  gives access to the "VCC", "GND", and "BUZ" pins by a 3-pin PH connector to extend them on other boards.
The passive buzzer is an electromagnetic squeaker used to generate sound signals of different frequencies with PWM signals. The active buzzer is more simple than the passive and only needs a HIGH signal to produce a fixed frequency sound.
WARNING: FOR ACCURATE INFORMATION ABOUT ICs ABSOLUTE MAXIMUM RATINGS AND ITS PRECIOUS  CHARACTERISTICS RANGES, USERS MUST CERTAINLY REFER TO ICs MANUFACTURE DATASHEET.
Key Features
User-selectable module power supply voltage between 3V3 and 5V

Control Pin access with PH connector

On Board, ON/OFF LED indicator

Signal LED indicator

Pin Compatible with GEBRABUS

GebraBit small package

It can be used as a daughter board of GebraBit MCU Modules

Featuring Castellated pad (Assembled as SMD Part)

Separatable screw parts to reduce the size of the board
Pinout Diagram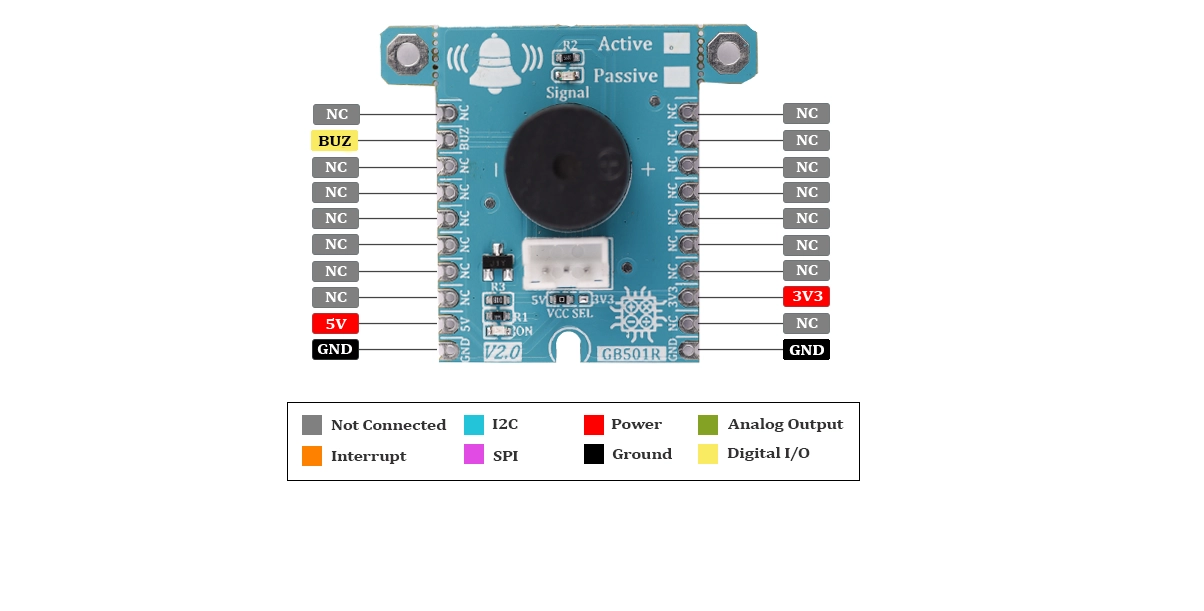 Module Overview

Documents Link