OVERVIEW
Gebrabit MX1508 is a 4A, up to 35V dual channel motor driver module.
GebraBit MX1508 needs two separate power supplies for the internal circuitry and motors.
The internal circuitry can operate with "3V3" or "5V" supply Voltages by Considered "VCC SEL" jumper selector pin or "VCC" pin of the screw terminal block.
The "VIN" pin gives power to the internal H-Bridge of the IC to drive the motors and the onboard integrated regulator.
Users can connect motors to the GebraBit MX1508 with voltages between 2 to 9V with a peak current up to 1.5A.
Users can access the most important pins of the MX1508 through the GebraBit MX1508 module. Pins like "IN1", "IN2", "IN3″, "IN4" as direction control pins
For easy accessibility, GebraBit MX1508 gives access to the "VCC", "GND", and "IN1", "IN2", "IN3", "IN4" pins by a 2×4 pin IDC connector to extend them on other boards.
GebraBit MX1508 has two screw terminal blocks for "OUT1" to "OUT4" to connecting motors and one terminal block for connecting "VCC", "GND" and "VIN" to the module.
The MX1508 IC has an integrated two channel motor driver circuitry tailored with N-channel and P-channel power MOSFETs which are suitable for driving DC motors in battery-operated toy cars and other similar applications. This IC has a working voltage of 1.8V to 5V, but it can drive motors with operating voltages in 2V to 9.6V range.
WARNING: FOR ACCURATE INFORMATION ABOUT ICs ABSOLUTE MAXIMUM RATINGS AND ITS PRECIOUS CHARACTERISTICS RANGES, USERS MUST CERTAINLY REFER TO ICs MANUFACTURE DATASHEET.
Key Features
On Board, ON/OFF LED indicator for "VCC" and "VM"

On Board LED indicator for direction pins

Control Pin access with IDC connector

Screw terminal blocks for power and motor connections

GebraBit Pin Compatible with GEBRABUS

GebraBit Large package

It can be used as a daughter board of GebraBit MCU Modules

Featuring Castellated pad (Assembled as SMD Part)

Separatable screw parts to reduce the size of the board
Pinout Diagram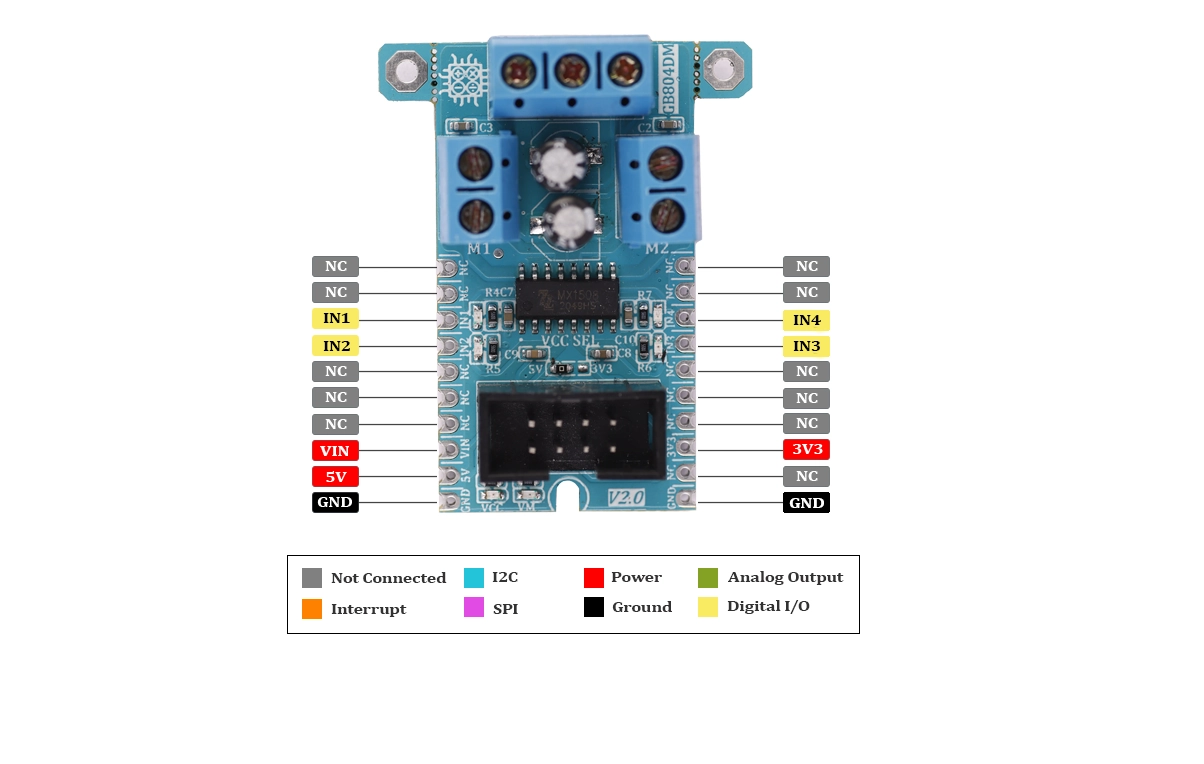 Module Overview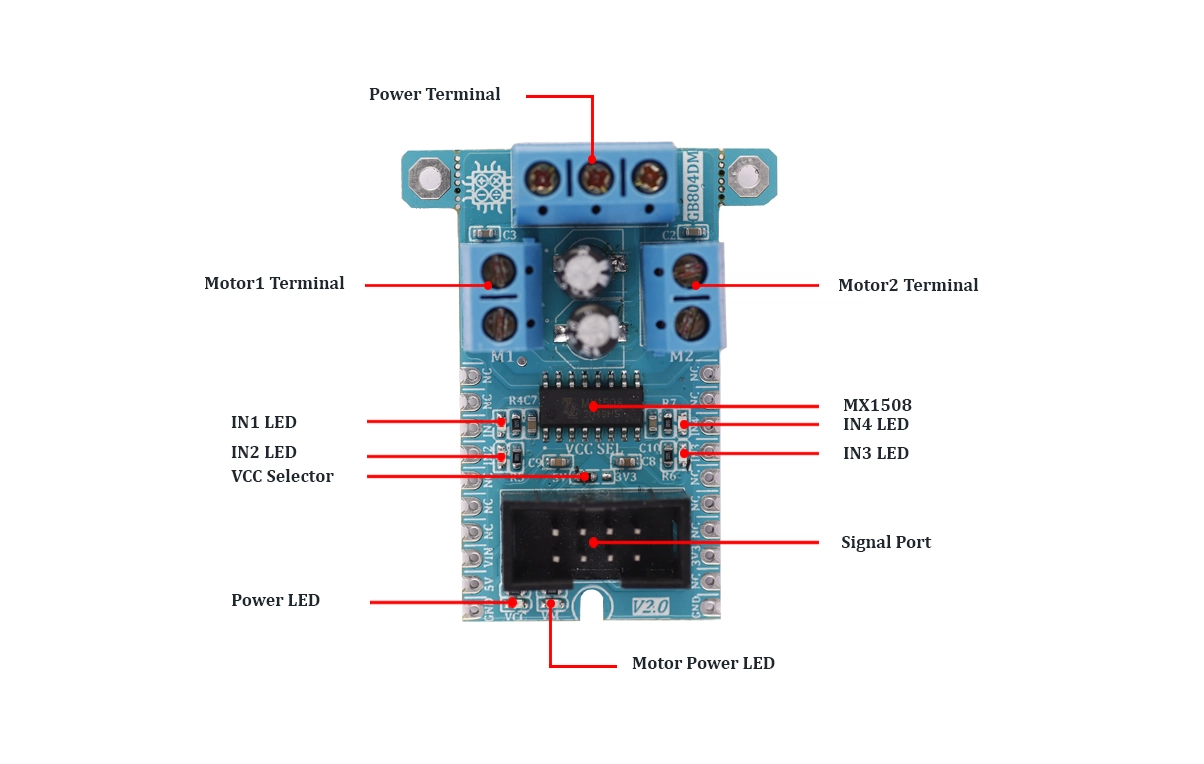 Documents Link