OVERVIEW
Gebrabit MPC17510AEJ is a 2V to 15V, 2.1 A, 200 kHz, Low RDS(on), H-Bridge, brushed DC motor driver module.
GebraBit MPC17510AEJ needs two separate power supplies for the internal circuitry and H-Bridge.
The internal circuitry operates with a 5V through the "5V" pin or onboard module regulator.
The "VM" pin gives power to the internal H-Bridge of the IC to drive the motors with voltages between 2 to 15V with a peak current up to 2A.
Due to an integrated on Board logic N-channel mosfet GebraBit MPC17510AEJ module can drive Solenoids through the "LOAD"pin; Also users can drive external mosfet through the "GOUT" pin.
Users can access the most important pins of the MPC17510AEJ through the GebraBit MPC17510AEJ  module. Pins like "IN1", "IN2", "EN" as direction control pins  of motor and "GIN" for the input control of the N-Channel mosfet
For easy accessibility, MPC17510AEJ gives access to the "5V", "GND", and "IN1", "IN2", "IN3", "EN", "GIN" pins by a 2×4 pin IDC connector to extend them on other boards.
GebraBit MPC17510AEJ has one screw terminal block for "OUT1" and "OUT2" to connecting motors and one terminal block for connecting "VM", "GND" and "5V" to the module and one screw terminal block for "GOUT", "GND" and "LOAD" for connecting selonoid to onboard mosfet.
The 17510 is a monolithic H-Bridge designed to be used in portable electronic applications such as digital and SLR cameras to control small DC motors. The 17510 can operate efficiently with supply voltages as low as 2.0 V to as high as 15 V. Its low RDS(on) H-Bridge output MOSFETs (0.45 Ω typical) can provide continuous motor drive currents of 1.2 A and handle peak currents up to 3.8 A. It is easily interfaced to low-cost MCUs via parallel 5.0 V compatible logic. The device can be pulse width modulated (PWMed) at up to 200 kHz. This device contains an integrated charge pump and level shifter (for gate drive voltages), integrated shoot-through current protection (cross-conduction suppression logic and timing), and undervoltage detection and shutdown circuitry. The 17510 has four operating modes: Forward, Reverse, Brake, and Tri-stated (high-impedance). This device is powered by SMARTMOS technology
WARNING: FOR ACCURATE INFORMATION ABOUT ICs ABSOLUTE MAXIMUM RATINGS AND ITS PRECIOUS CHARACTERISTICS RANGES, USERS MUST CERTAINLY REFER TO ICs MANUFACTURE DATASHEET.
Key Features
On Board, ON/OFF LED indicator for "5V" and "VM"

On Board LED indicator for direction pins and GIN pin

Control Pin access with IDC connector

Screw terminal blocks for power, motor connections and selonoid

GebraBit Pin Compatible with GEBRABUS

GebraBit Large package

It can be used as a daughter board of GebraBit MCU Modules

Featuring Castellated pad (Assembled as SMD Part)

Separatable screw parts to reduce the size of the board
Pinout Diagram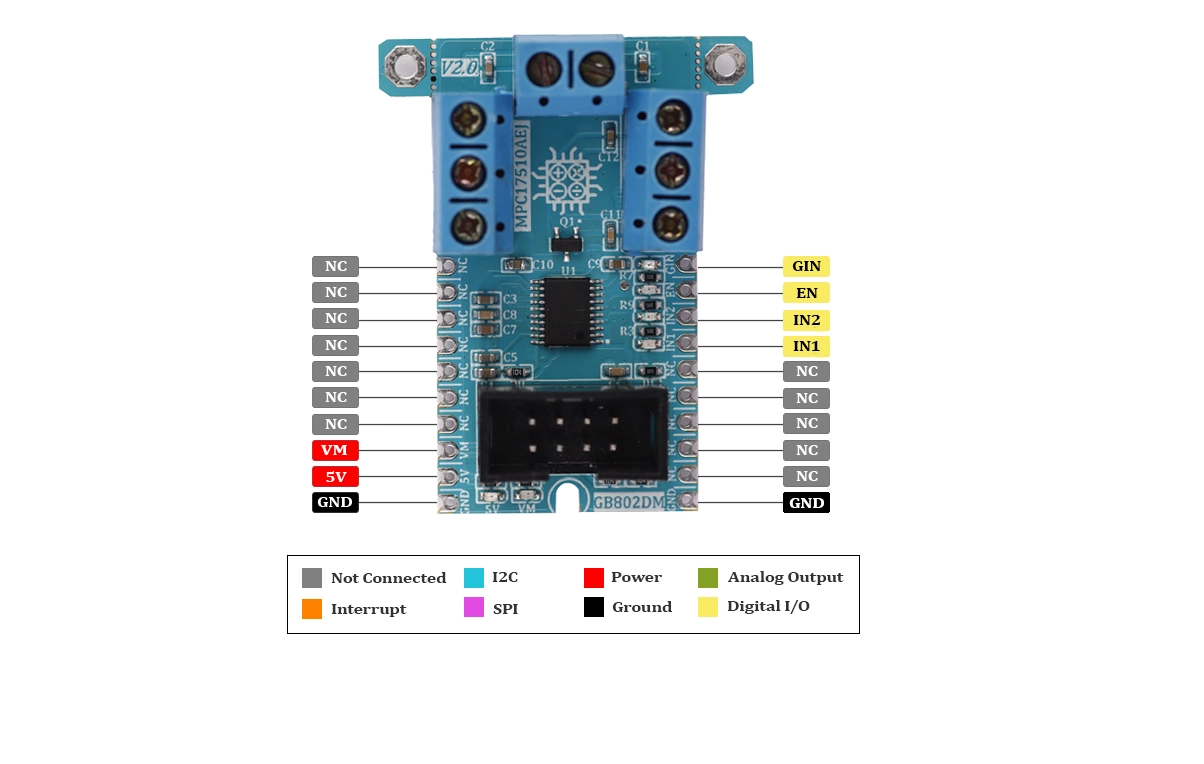 Module Overview

Documents Link