OVERVIEW
GebraBit MAX9812 features a microphone and Fixed-Gain Microphone Amplifier with Integrated Bias.
GebraBit MAX9812 module operates just with an input "5V" supply voltage.
By GebraBit MAX9812 "SHN" pin, the User can set the MAX9812  sensor in shutdown mode.
MAX9812 Rail-to-Rail output is available on the module "A0" pin. For reading sound data, just connect the analog "AO" pin to MCU ADC and go on!
The MAX9812 is a single input, 20dB fixed-gain microphone amplifier. it offers a low-noise, integrated microphone bias, making it ideal for portable audio applications such as notebook computers, cell phones, and PDAs. This amplifier features a 500kHz bandwidth, rail-to-rail outputs, an industry-leading 100dB power-supply rejection ratio, and a very low 0.015% THD+N. Power-saving features include a very low 230µA supply current and a total shutdown mode that cuts the combined supply and BIAS currents to only 100nA.
WARNING: FOR ACCURATE INFORMATION ABOUT ICs ABSOLUTE MAXIMUM RATINGS AND ITS PRECIOUS  CHARACTERISTICS RANGES, USERS MUST CERTAINLY REFER TO ICs MANUFACTURE DATASHEET.
Key Features
Highly-Sensitive Capacitive Microphone

On Board, ON/OFF LED indicator

Access to SHN pin of MAX9812 amplifier

GebraBit Pin Compatible with GEBRABUS

GebraBit small package

It can be used as a daughter board of GebraBit MCU Modules

Featuring Castellated pad (Assembled as SMD Part)

Separatable screw parts to reduce the size of the board
Pinout Diagram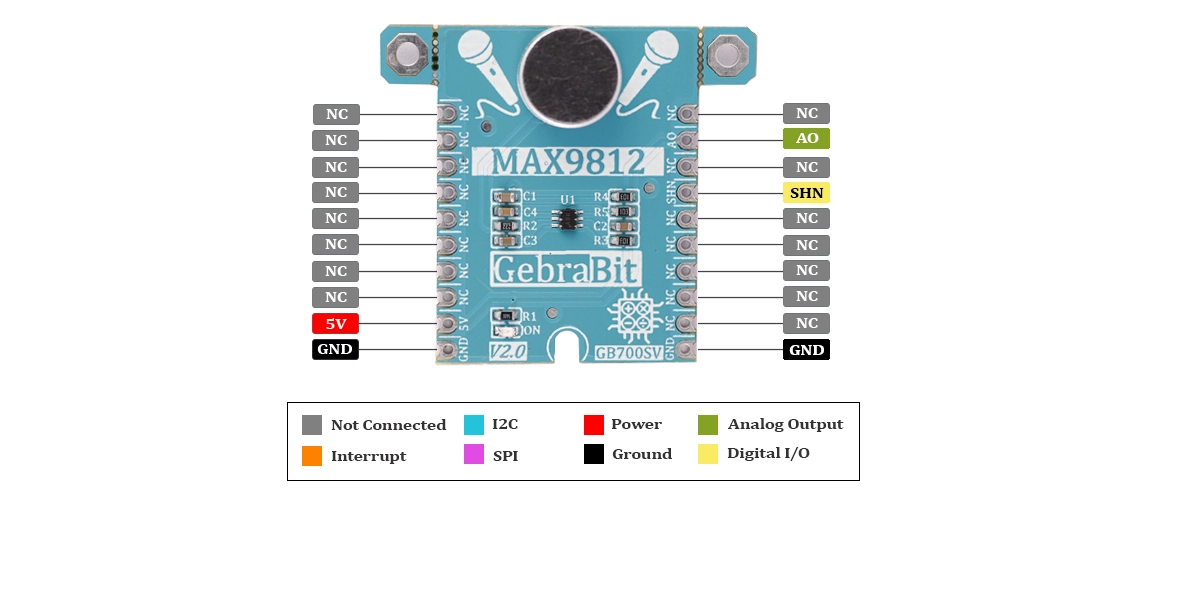 Module Overview
Documents Link