OVERVIEW
GebraBit VS1838 features a high-speed and high-sensitivity IR Receiver.
GebraBit VS1838 can operate with "3V3" or "5V" supply Voltages by considered "VCC SEL" jumper selector.
Module OUTPUT is available as the PWM signal on the GebraBit VS1838 module "OUT" pin.
By receiving IR the "IR" LED will be turned on.
For easy accessibility, GebraBit VS1838  gives access to the "VCC", "GND", and "OUT" pins by a 3-pin PH connector to extend them on other boards.
VS1838 Infrared Receiver features a Compact design, Built­-in dedicated IC, wide­angle and long-distance reception, anti­stem worries ability, can more than offset the impact of ambient light, and Low voltage operation.
WARNING: FOR ACCURATE INFORMATION ABOUT ICs ABSOLUTE MAXIMUM RATINGS AND ITS PRECIOUS  CHARACTERISTICS RANGES, USERS MUST CERTAINLY REFER TO ICs MANUFACTURE DATASHEET.
Key Features
User-selectable module power supply voltage between 3V3 and 5V

Data Pin access with PH connector

On Board, ON/OFF LED indicator

LED indicator for IR diagnosing

Pin Compatible with GEBRABUS

GebraBit small package

It can be used as a daughter board of GebraBit MCU Modules

Featuring Castellated pad (Assembled as SMD Part)

Separatable screw parts to reduce the size of the board
 Pinout Diagram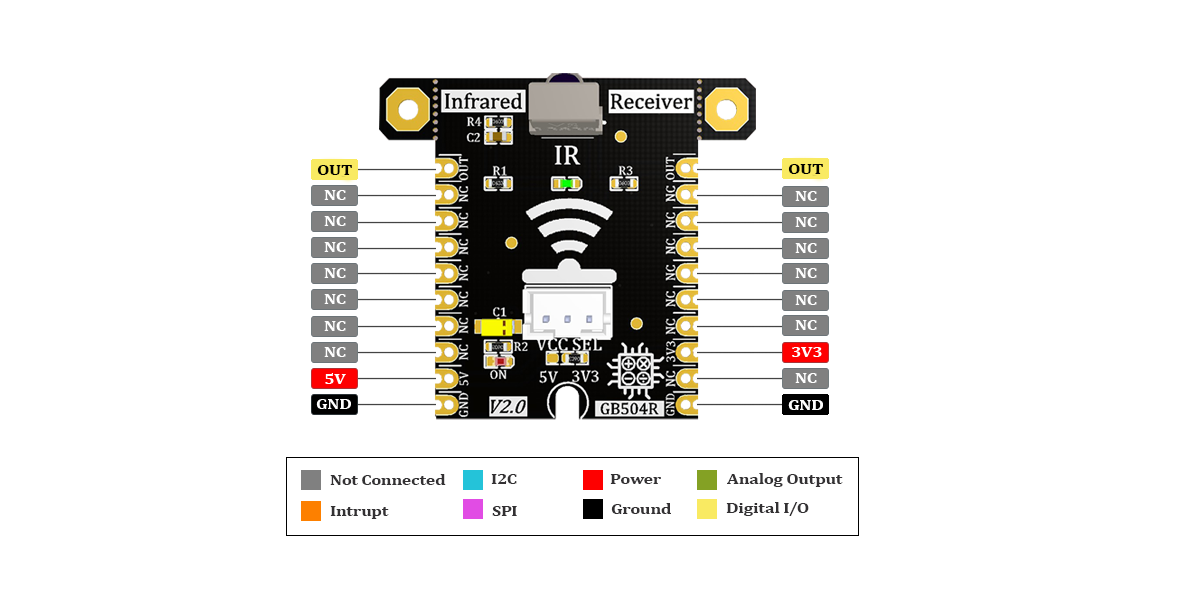 Module Overview
Documents Link