OVERVIEW
GebraBit TCRT5000-2 is a reflective Optical, 2-channel module.
The GebraBit TCRT5000-2 module can be used for robotic projects such as line followers.
GebraBit TCRT5000-2 module can operate with "3V3" or "5V" supply Voltages by considered "VCC SEL" jumper selector.
GebraBit TCRT5000-2 module OUTPUT is available as the analog and digital voltage on "AO1" and "AO2", "DO1" and "DO2" pins.
For easy accessibility, GebraBit TCRT5000-2  gives access to the "5V", "GND", "DO1", "DO2", "AO1", and "AO2" pins by an IDC-2×4 connector to extend them on other boards.
The distance between 2 TCRT500 sensors is about 18mm.
The IR intensity threshold is adjustable by an embedded potentiometer in the GebraBit TCRT5000-2 module, when the IR intensity goes above, or below the threshold, the "DO1" and "DO2"  pin and the LEDs status will be changed.
NOTE: An empty TCRT5000 sensor slot has been regarded in the module, so the GebraBit TCRT5000-2 can be used as a one-channel module, and the output data will be available on "AO1" and "DO1" pins.
The TCRT5000 is a reflective sensor that includes an infrared emitter and phototransistor in a leaded package that blocks visible light.
WARNING: FOR ACCURATE INFORMATION ABOUT ICs ABSOLUTE MAXIMUM RATINGS AND ITS PRECIOUS  CHARACTERISTICS RANGES, USERS MUST CERTAINLY REFER TO ICs MANUFACTURE DATASHEET.
Key Features
User-selectable module power supply voltage between 3V3 and 5V

Analog Voltage OUTPUT

Digital Voltage OUTPUT

Data Pin access with IDC connector

Usable as one-channel

Adjustable IR intensity threshold

On Board, ON/OFF LED indicator

Pin Compatible with GEBRABUS

GebraBit small package

It can be used as a daughter board of GebraBit MCU Modules

Featuring Castellated pad (Assembled as SMD Part)

Separatable screw parts to reduce the size of the board
Pinout Diagram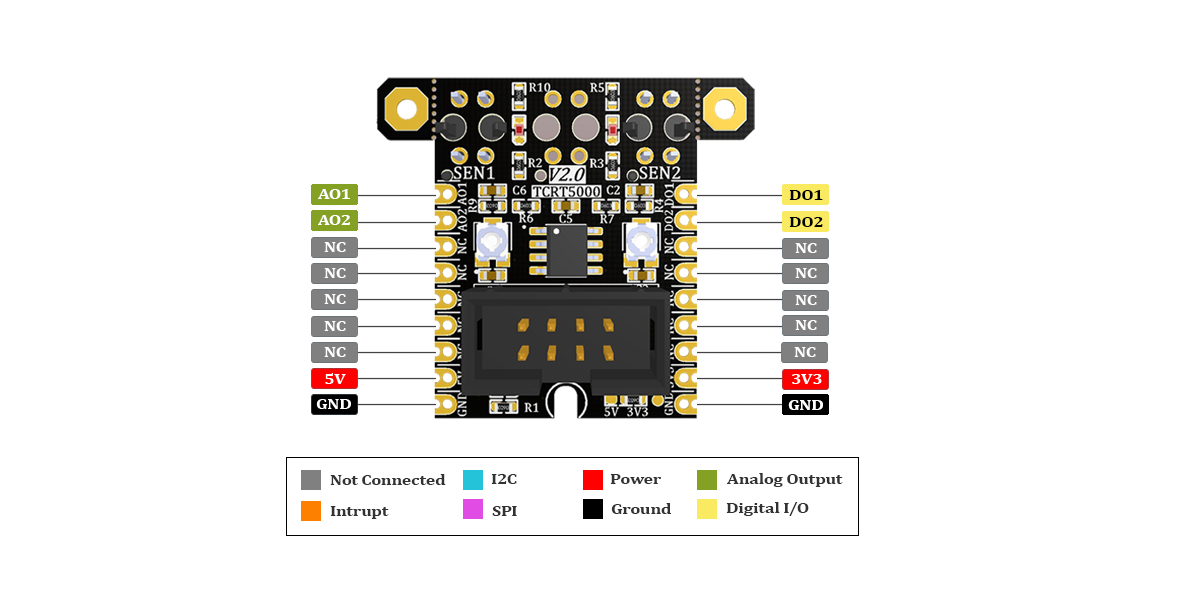 Module Overview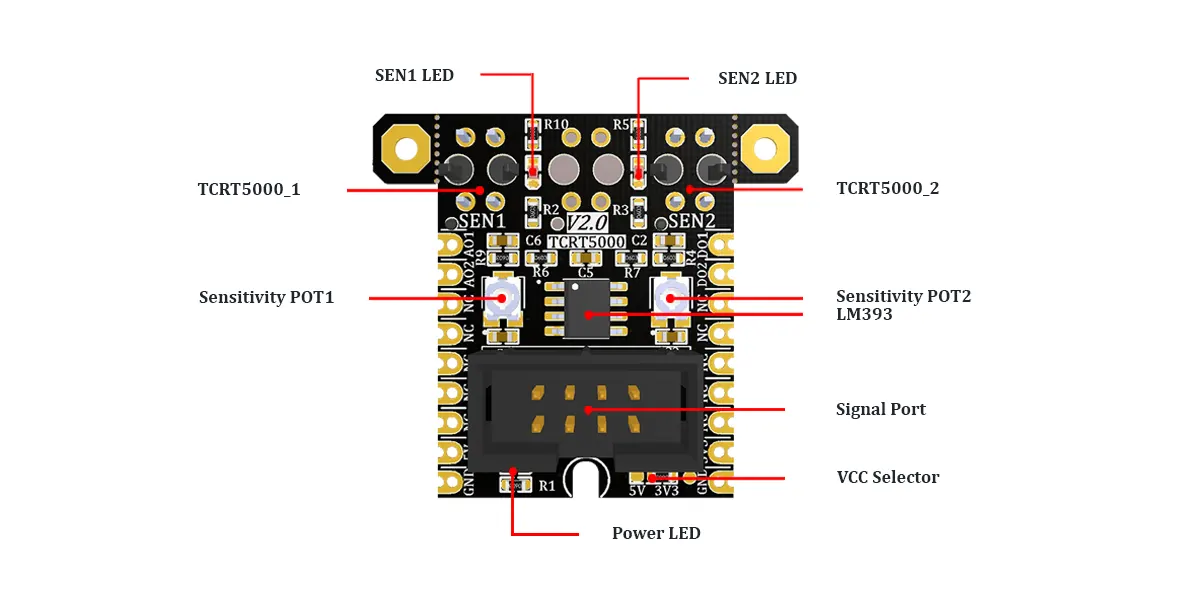 Documents Link