OVERVIEW
GebraBit STM32F303 is a high-performance Arm® Cortex®-M4 32-bit RISC core with FPU, Module.
GebraBit STM32F303 operates with a 5V input Supply Voltage due to an integrated 3V3 regulator which its output is accessible on the "3V3" pin. Also, Users can program the microcontroller through the SWD (Serial Wire Debug ) header.
One of the important specifications of GebraBit STM32F303 is BOOT0 configuration by the "BOOT SEL" jumper selector.
Thanks to the embedded USER&RESET button, USER LED, 32.768Khz & 8Mhz crystals, and access to all pins of the STM32F303 microcontroller, GebraBit STM32F303 will be the best choice for developing any project.
Finally don't forget that this module is Pin Compatible with GEBRABUS , so that all alternate functions like I2C, SPI,… are exactly pin compatible with GEBRABUS. As a result, all GebraBit Module (Sensors, Interface,..) can sit on GebraBit STM32F303 and get ready to be initialized.
As its clear, the module core is STM32F303, based on the high-performance Arm® Cortex®-M4 32-bit RISC core with FPU operating at a frequency of up to 72 MHz and embedding a floating point unit (FPU), a memory protection unit (MPU) and an embedded trace macrocell (ETM). The family incorporates high-speed embedded memories (up to 256 Kbytes of Flash memory, up to 40 Kbytes of SRAM) and an extensive range of enhanced I/Os and peripherals connected to two APB buses. The devices offer up to four fast 12-bit ADCs (5 Msps), seven comparators, four operational amplifiers, up to two DAC channels, a low-power RTC, up to five general-purpose 16-bit timers, one general-purpose 32-bit timer, and two timers dedicated to motor control. They also feature standard and advanced communication interfaces: up to two I2Cs, up to three SPIs (two SPIs are with multiplexed full-duplex I2Ss), three USARTs, up to two UARTs, CAN and USB. To achieve audio class accuracy, the I2S peripherals can be clocked via an external PLL.
WARNING: FOR ACCURATE INFORMATION ABOUT ICs ABSOLUTE MAXIMUM RATINGS AND ITS PRECIOUS  CHARACTERISTICS RANGES, USERS MUST CERTAINLY REFER TO ICs MANUFACTURE DATASHEET.
Key Features
Access to all pins of STM32F303 microcontroller

Just 5V input voltage is sufficient for powering the module on

3V3 Voltage Regulator

3V3 Output Voltage

ON/OFF LED indicator

1 USER LED

1 USER BUTTON

RESET BUTTON

BOOT SEL jumper selector for BOOT0 mode configuration

SWD (Serial Wire Debug ) Header

8 Mhz and 32.768 Khz SMD CRYSTAL

Pin Compatible with GEBRABUS

GebraBit Large package

It can be used as a Motherboard of GebraBit Modules
Pinout Diagram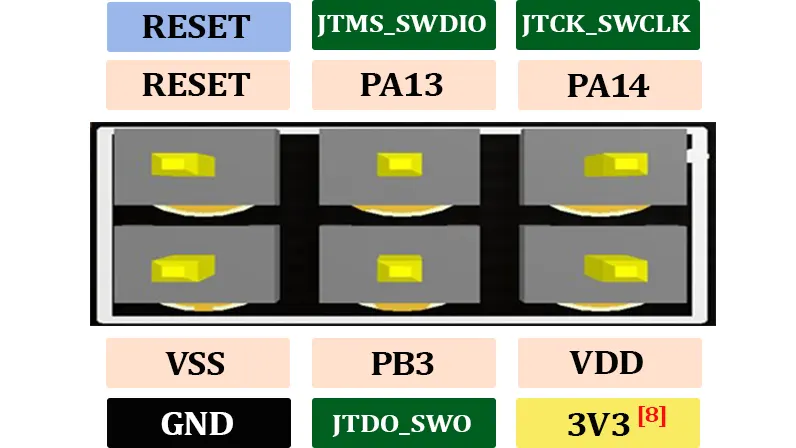 Module Overview

Documents Link